Blue Buffalo are well known in the pet food industry and their classic high protein dry cat food formulas have proven a favorite with cat owners over the years. In this review we'll take a look at what makes it stand out among it's rivals and what cats it's suitable for.
This high quality dry food boasts an impressive minimum crude protein content of  38.0% [emoji s="muscle"]. Many other kibble based foods tend to linger more towards the lower end of 30%, so this it definitely ticks the box of having a high protein content.
You can see the full list of nutrients and their respective values below.
Nutritional Content
| Nutrient | Min Content |
| --- | --- |
| Crude Protein | 38.0% |
| Crude Fat | 16.0% |
| Crude Fiber | 6.0% |
| Moisture | 10.0% |
| Magnesium | 0.14% |
| Taurine | 0.15% |
| Omega 3 Fatty Acids | 0.5% |
| Omega 6 Fatty Acids | 2.5% |
Why We Recommend It
Grains aren't necessarily bad for cats, but they aren't part of their natural diet. For this reason, we tend to see foods that have a high grain or carbohydrate content as containing a significant amount of filler ingredients that don't provide any worthwhile nutrition.
This Blue Buffalo cat food is entirely grain and gluten free meaning every ingredient is more likely to contribute to a healthy nutritional profile.
A similar thing can be said for by-product meats; they aren't always bad, but with this high quality food you don't even have to worry about them [emoji s="smile"]. The main concern with by-product meals is that the source of the meat is often a little hard to determine.
With respected manufacturers it's very rarely a sign of poor quality ingredients anyhow so don't be too alarmed if you see it in your existing food.
It comes in a variety of flavors and variants that are tailored for both indoor and outdoor cats, and the huge amount of bag size options means you don't have to store a massive bag of cat food in the house for weeks at a time.
The list of benefits goes on and on, but here are a few standout things that we love about this food:
No grains or gluten [emoji s="tick"]
No corn, wheat or soy [emoji s="tick"]
No artificial preservatives [emoji s="tick"]
Cold-formed kibble to retain nutritional value [emoji s="tick"]
Things To Watch Out For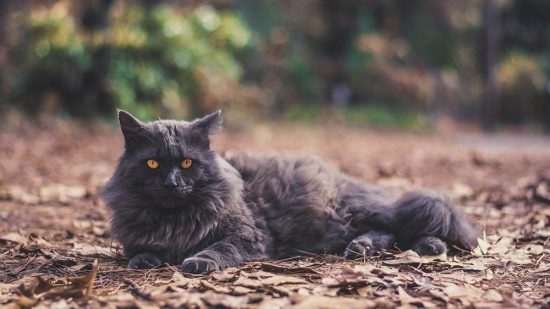 It's a very good dry cat food option, but there are a few points worth noting if you're considering buying.
High caloric density because of it's high protein count. This doesn't mean it'll make your cat overweight, but it does mean that the portion sizes are likely to differ from your existing food.
Contains potatoes which aren't part of a cat's natural diet but are definitely a better option for creating kibble than the grains or corns which are used in other dry cat foods.
Other than that, it's sure to hit the mark and leave both you and your cat happy.
Transitioning To Blue Buffalo High Protein Food
You should always transition between foods gradually. Simply switching your cat's diet immediately can lead to upset in cats with sensitive digestive systems and frustration for you when they inevitably reject the new food [emoji s="sad"].
Remember that even with the best dry cat foods you need to ensure your cat is getting plenty of hydration. It goes without saying that kibble based foods contain much less moisture than wet foods, so keep that in mind if you make the move from a wet food.
What Cats Is It Suitable For?
This is an adult cat food, since kittens typically reach maturity at around a year of age, any cat over a year old should be fine to transition onto this Blue Buffalo cat food [emoji s="cat"].
Be sure to check the ingredient list carefully for any ingredients you know your cat is allergic to.
You can find more information over at the manufacturer's website.