IAMS Proactive Health Kitten food is a dry cat food specially formulated for cats less than a year old. Kitten foods have to be high in protein and fat content because they grow rapidly and require plenty of nutrients throughout their first year, imagine reaching adulthood in just a year! 🙀
You'll be glad to hear then that this kitten food ticks all the right boxes.
IAMS haven't exactly had the most sterling track record in the past when it comes to food recalls, but we think this food is on to a winner.
IAMS Kitten Food Ingredients
The food contains 3,990kcal/kg, which equates to roughly 416kcal/cup so while it's on the high end of the calorie scale, it's not a ridiculous level, which suggests a good balance of ingredients.
Let's have a quick breakdown of the primary 5 ingredients this food includes and how that translates in terms of nutrition for your kitten.
Chicken a great start, real chicken being the first ingredient on the list means that it's likely the biggest source of protein in the food which is exactly what you look for in high quality kitten foods. 🍗
Corn Meal is a step back to mediocre. It's not fantastic, but it does provide protein and bumps up the fat content a little bit (1.8g fat per 100g) 🌽.
Chicken By-Product Meal again this is slightly less ideal that the real chicken that features as the primary ingredient, but given that the source is respectable (it surely is with a brand like IAMS) then there's nothing to worry about.
Animal Fat is where the fat content really gets bumped up. Fat sounds like a bad thing, right? But growing animals need good fat to provide them with all the calories and nutrients required to grow at such a fast pace.
Dried Beet Pulp is a good source of fiber in commercial foods and often finds its way in due to how cheap it is.
Why We Like It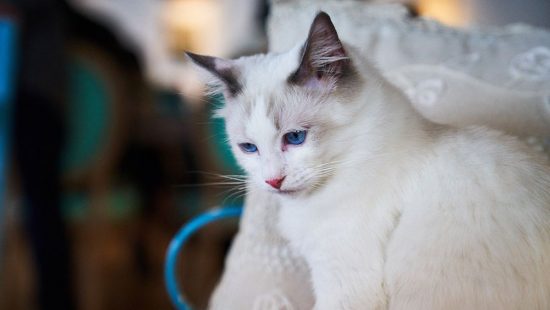 It's a really good all round dry food for kittens. Despite the troubles IAMS have had in the past with recalls, they look to have turned over a new leaf and this Proactive Health food is a perfect example of how dry cat food should be done.
Despite the name, it's really just a high calorie option that would be perfectly suitable for adult cats that need to gain weight too. The fat content is something to watch if you plan on feeding this to a cat that's already at a healthy weight though.
It isn't quite perfect, but short of making your cat's meals by hand you're unlikely to ever reach 100% perfection in a commercial cat food that doesn't cost an arm and a leg. There's definitely nothing here to cause any health concerns.
You can find the full feeding guidelines by age over at Chewy.com under the "Feeding Instructions" tab.