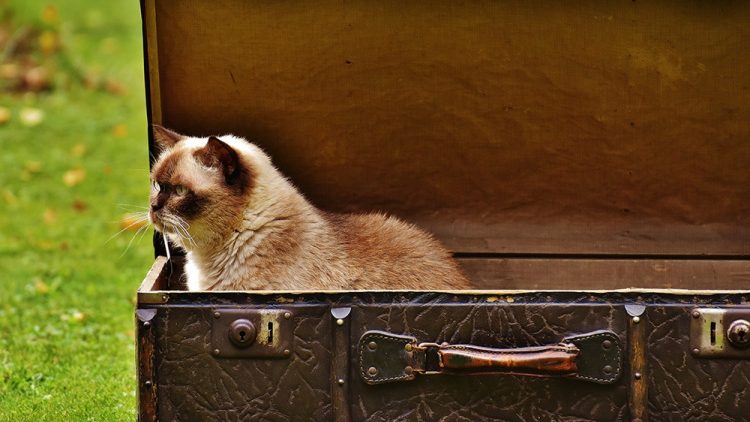 Choosing the best cat carrier for your cat is the single most important thing you can do to help calm your cat's nerves and make life easier for the both of you.
According to feedback from our readers, the best cat carriers to buy are durable, secure, and comfortable to hold for long durations.
After putting countless hours of research into the available options, reading review after review, and testing out a bunch of different cat carriers, we have our verdict. The Sherpa Deluxe Pet Carrier is the best cat carrier to buy because it offers comfort, security, and provides an even weight distribution.
We recommend..
3 items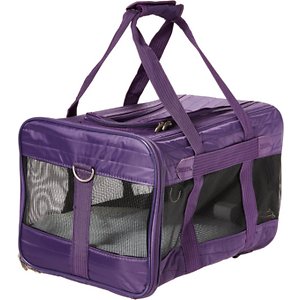 Best Value For Money
Sherpa Original Deluxe Pet Carrier
Check Current Price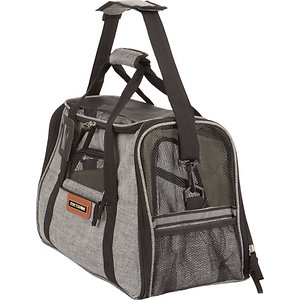 Super Comfortable
Pawfect Pets Premium Soft-Sided Cat Travel Carrier
Check Current Price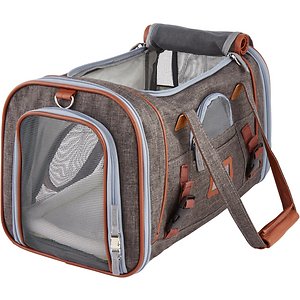 Best Lightweight Carrier
Mr. Peanut's Gold Series Airline-Approved Soft-Sided Cat Carrier
Check Current Price
Through reviewing reader feedback and compiling product reviews to seek out common complaints and problems, we found a few key factors that separate the best cat carriers from the rest:
Polyester or nylon materials are the best for soft-sided cat carriers
Proven reputation for durable carrier closure mechanisms such as zips, clasps, and velcro fittings
Comfortable straps and handles that evenly distribute weight while carrying
All of the carriers featured here meet our rather high standards for excellence, and are backed up by countless reports of positive experiences by ourselves and our readers.
On this page:
Cat Carriers Comparison
Because different airlines have different rules, we've listed the size of each of our top-rated cat carriers in the table above.
As previously stated, our research into consumer satisfaction and the satisfaction of our readers shows that Polyester and Nylon soft-sided cat carriers are the most durable and secure options.
For hard carriers, focus should be on the ease-of-use and the quality of the clasps. Below is a list of the best cat carriers to keep your cat calm and secure when traveling.
The Best Cat Carriers
While researching we found that high-quality nylon and polyester cat carriers from reputable brands are best despite being relatively affordable options, making them the best choice for soft cat carriers.
Through carefully studying every cat carrier we could find and listening to reader feedback on each, we've compiled this excellent list of the best carriers around. Below are the best cat carriers for traveling with nervous cats according to our in-depth research and testing.
1. Sherpa Original Deluxe Pet Carrier — Best Overall Carrier
Material: Polyester | Dimensions: 19.0" x 11.8" x 11.5"
The Sherpa Deluxe Pet Carrier remains the go-to choice for good reason, it's extremely good value for money and is very comfortable for pets.
Best recommended for pets up to 22lbs, this carrier is capable of happily housing a cat with plenty of room for movement. It's the most spacious carrier we've used and having that little extra legroom seems to go a long way towards keeping cats calm.
You can unzip the top and lower your cat into the carrier without too much resistance, it's so much easier than getting them in through the side doors. We found that it saves about 30 minutes of wrestling and an arm full of scratch marks!
The most impressive aspect of this carrier is how well the weight is balanced. In some cheaper carriers, carrying can become extremely awkward unless your cat is positioned in the center (which is very unlikely, to be honest). The Sherpa Deluxe manages to evenly distribute weight in a way that makes carrying it a pleasure rather than a chore.
It has a super fluffy mat inside that seems pretty resistant to spills, but you might want to bring a replacement along with you. It's definitely one of the best cat carriers we've ever tried.
2. Pawfect Pets Premium Soft-Sided Cat Travel Carrier — Best for Nervous Cats
Material: Poylester | Dimensions: 17.5" x 10.0" x 11.0"
Airline approved, comfortable and secure. The Pawfect Pets Travel Carrier ticks all the boxes for nervous traveling cats and is one of the best cat carriers around.
It's snug enough to fit on most major airlines as cabin luggage, but leaves enough room for your cat to be able to move around a little which is definitely for the best. The "claw-defense mesh" is durable and doesn't feel flimsy at all, no risk of tears or holes here. The zips have mini-buckles on them to ensure they don't come loose and give your pet a chance to escape mid flight.
The handle is comfortable and it's a nicely balanced as far as weight goes. We've had trouble in the past where our cat would curl up in one side and tilt the whole thing, making it really difficult to carry using the top handles. This case is sturdy enough that we saw no such problems here.
This cat carrier also comes with two fleece padded mats of the best quality, which means you can quickly replace the flooring if there any spills or accidents.
It's made the top end of our list simply because it's the first travel carrier we've ever used that addresses all our annoyances with previous carriers. They really have thought of everything.
3. Mr. Peanut's Gold Series Airline-Approved Soft-Sided Cat Carrier — Best Small Cat Carrier
Material: Nylon | Dimensions: 18.0" x 10.5" x 11.0"
This stylish looking soft sided pet carrier is perfect for those looking for a smaller pet carrier that's suitable for airline travel.
Recommended for pets up to 14lbs, it should comfortably accommodate your cat and leave a bit of room for movement.
It's super lightweight at only 2.7lbs and the mesh is a really high quality. The only downside is that because it's so light it can be difficult to balance a disgruntled cat and carry it using the top handles, we found it best to use the shoulder strap in most cases.
Other than it's a great all rounder and definitely worthy of a place on our best cat carrier list.
4. Petmate Top Load Pet Carrier — Best Top Loading Cat Carrier
Material: Plastic | Dimensions: 24.0" x 16.8" x 14.5"
This plastic and steel cat carrier from Petmate is as sturdy as they come. You might sacrifice a little style but plastic carriers are definitely more convenient to use in a general sense. They're sturdy, secure, and allow for top loading. Cleaning up spills is as easy as replacing the mat inside and giving it a quick wipe over.
With plastic carriers you can sometimes feel that the hinges on the doors are a bit flimsy and insecure.
This Petmate cat carrier has no such trouble. One of it's best features is that the hinges are strong and there's no wobbling or looseness, so you can rest easy knowing your cat isn't about to burst out and do a runner!
The best plastic pet carrier we've ever had the pleasure of using.
5. SportPet Travel Cat Carrier — Best Budget Cat Carrier
Material: Plastic | Dimensions: 15.2" x 18.5" x 14.2"
We love how convenient the SportPet Travel Cat Carrier is. It has a wide side-opening door that makes for the easiest side-loading we've encountered.
Our cat was even comfortable enough walking into the case from the side as it looks so open and inviting. Pretty much the biggest relief ever.
It folds down easily and is super compact, making it the best choice for a carrier that needs packing away when it's not required.
Take a quick look at some of the raving reviews this carrier has had by clicking the button above.
Guide to Traveling With a Nervous Cat in a Carrier
Preparing Your Cat For Travel
Choosing a comfortable carry crate for your cat is important and hopefully our list above has given you some worthy options to choose from. Cats often aren't too keen on being put in cages, but many cats soon grow accustomed to being temporarily held in a cage.
If you do purchase a new carrier, it's vital that you give your cat an opportunity to become accustomed to it. Try leaving it out and open in a place where the cat is already comfortable, and give them time to get used to it.
You'll be surprised to find that cats will quickly find themselves at home in the case and be will even happily sleep in there while it's open.
If you think they're still a little suspicious due to past experiences, it can be a good idea to tempt them in with some treats. Don't slam the door as soon as they get in, but let them enter and leave freely until you can tell they're totally comfortable with the new carrier.
There's even whole host of catnip blankets and the like designed to keep cats calm. It's definitely something worth looking into.
Tips For Calming Nervous Cats
Make sure you give your cat plenty of attention. Stroke them through whatever openings your carrier has and try to give them as much contact as you possibly can.
You'll definitely want to, but do not partially unzip the carrier in a public place, it's tempting (we know!).
Hold the case as close to your body as possible so they can feel your body moving, and if you have a carrier with privacy flaps to cover up some of the mesh then utilize them.
If you've tried everything and don't seem to be getting anywhere, it can be a good idea to prepare with some natural cat-calming solutions as a last resort. Make sure there aren't any drugs or nasty chemicals in them, and remember that it's better to try other methods before resorting to food and treats.
Dealing With Spills And Accidents
Nervous cats can be prone to urination. It can create a really unpleasant odor that's hard to get rid of. We recommend you travel with scented wipes and make sure your carrier has a suitable pad on the floor.
You want to make the carrier resemble a comfortable cat bed as much as possible, so use removable linings that are easy to wash and soak up any spills.
It might also be a good idea to travel with zip lock bags containing cat litter, just to soak up any mess you may not be able to wipe away in a hurry. We'd recommend you use a clumping cat litter, as those are best suited to sealing in odors to minimize nasty smells!
We took this into account when creating our recommendations for the best cat carriers. It's one of the reasons we listed the Pawfect Carrier as the best carrier for nervous cats. The replacement fleece mat that comes with the carrier makes it a breeze to swap during travel.
Things To Look Out For
Ensure that you purchase a reliable cat carrier made from quality materials that won't fall apart easily. This doesn't necessary have to be to the same extreme that durable dog crates are made, since your cat can't really exert that much force on the walls of the carrier.
Just be sure that the zips are sturdy and the bottom of the carrier will comfortably hold their weight. Cases with thick strong handles are a good bet since dropping the carrier at any point is likely to cause serious distress and make things even more difficult in future.
Did you find this article helpful?