Hello there, friend! The Idle Cat is a growing blog all about cats and advice on keeping them. Our small team of experienced cat owners, part-time editors, and writers are looking forward to bringing you exciting and informative articles to help you become a the best cat owner you can be!
The Idle Cat began as an Instagram page in 2016. We'd post a mixture of cute cat pics and helpful infographics that broke down topics like cat food nutrition, flea treatments, and more.
After picking up a little following, we decided we'd need a better place to keep content fresh and up-to-date. In 2017, we set out to create a blog that could cover everything from fun posts and naming ideas to health tips and guidance. Every member who works with us to build the blog into something beautiful does so with cats' best interests at heart.
With more fresh content in the pipeline and a vision for creating a community in the future, everyone in charge is super excited to get the show on the road.
Who's Behind The Idle Cat
Keeping a website up to date and full of fresh new content is no easy task. Our Editorial Team consists of a small group of volunteers who make sure each and every article you read is accurate, informative and original. They do their very best to ensure every article leaves you more informed on how best to care for your kitty. Along with them, here are the people who contribute to our blog.
Veterinarian Contributors
We're constantly on the hunt for qualified veterinarians who think they could contribute something to The Idle Cat. If you have something you'd like to share, or want to discuss how you can get involved, email us at hello@theidlecat.com.
Why We Started The Idle Cat
The idea to create a website about pet care came in 2016 after I (Benji) started taking a closer look at the stuff in Willow's food. In an effort to make more informed decisions on what I bought, I set about making charts to compare the foods available based on a whole host of different attributes. I'd look at the meat sources, dry matter basis protein content, calculate the nitrogen-free extract content, weigh up value for money, and a tonne of other stuff.
Here's an example of a more recent chart that looks at what some well-reviewed dry and wet foods from popular brands had to offer in terms of dry matter basis protein content: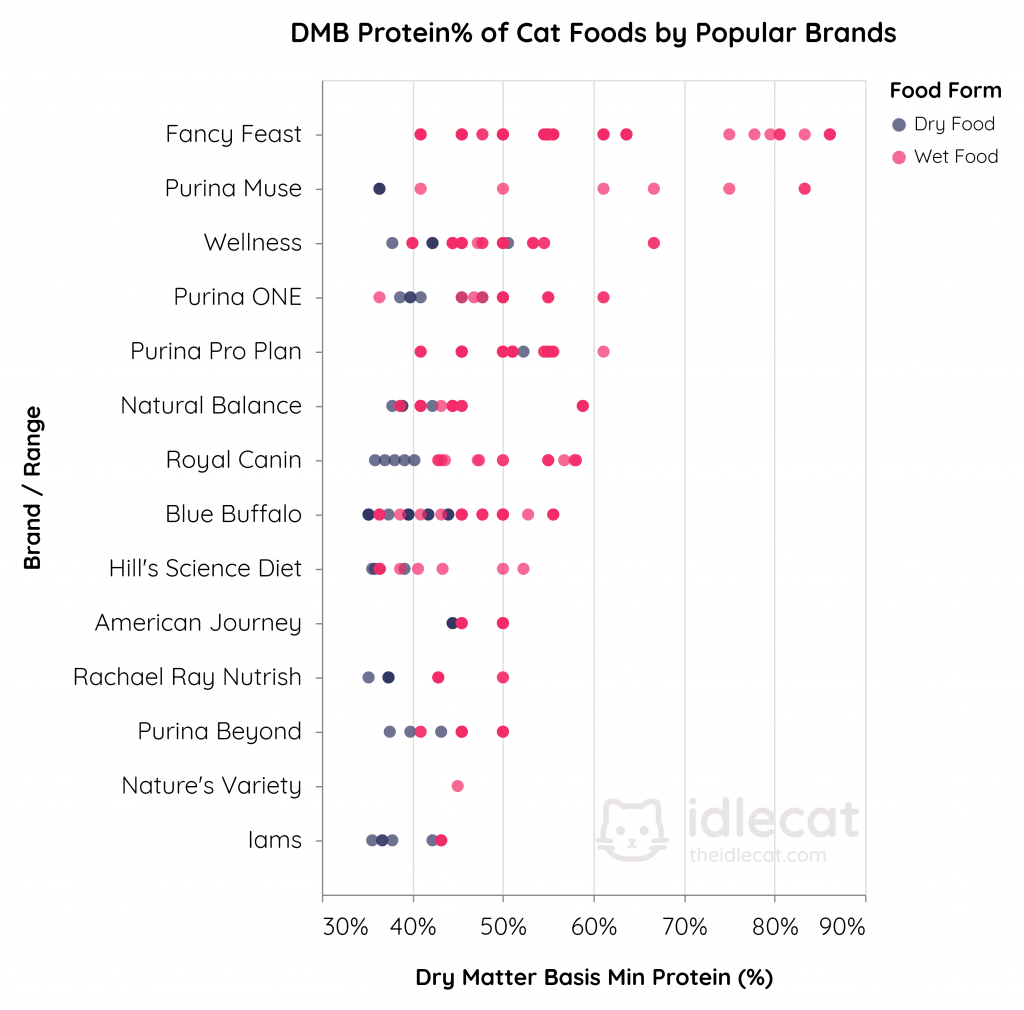 It turns out, plenty of people found these charts useful too. I launched The Idle Cat blog in 2017 after our Instagram page picked up a little following.
The trouble with data is that it gets outdated, and Instagram isn't the best place to showcase it. In launching the site, I hoped to create a helpful resource for cat owners that could be updated frequently, and be as pretty to look at as it is useful; so far, so good.
The long term goal of The Idle Cat is to become the most trusted site on the internet for tips, guides, and in-depth product reviews related to cats. So far, so good – we've been featured on a few lists as one of the best cat blogs around, including Ranked Blog's list of top cat blogs.
As the site grows and gathers a bigger audience, I'm bringing veterinarian contributors on board where possible to help review and approve content.
Check out The Idle Pup too!
Creating The Idle Cat was so much fun for us that we put our heads together to create a blog about dogs too. Over at The Idle Pup, we've been working just as hard as we do here to create useful resources for dog owners.
Just like The Idle Cat, it has exclusive articles from veterinarians, in-depth guides and reviews about food, toys, grooming products and much, much more. We want to create a pairing of websites that can serve as a trusty guide for new pet owners and experienced ones alike.
Getting In Touch
We get a lot of requests inquiring about guest post opportunities, but our editors are often busy creating and designing our own content. Because of our high standards for information accuracy, we do not accept posts from guest authors.
You can get in touch with us by emailing hello@theidlecat.com. Please use a clear subject line so we can spot you in the horde of spam we get daily. We'll do our best to get back to you within as quickly as we can!
Did you find this article helpful?