Keeping your cat at a healthy weight as they transition through different stages of their life can be tricky.
We analyzed over 280 cat foods to see what makes an effective weight loss cat food, then narrowed them down to just a handful of the best. You can read what we discovered here (it's interesting!) or see which foods we recommend here.
Let's take a look at a few recommendations for diet cat foods that can work wonders to get your cat's weight under control.
The cat foods listed above all contain a high-to-moderate levels of protein, a low fat content and a high fiber content. In most cases, the introduction of a good weight loss cat food along with better feeding habits is enough to guide your overweight cat back to a healthy weight.
The Best Cat Food For Weight Loss
1. Royal Canin Ultra Light Canned Weight Loss Food
Royal Canin's canned ultra-light weight loss cat food formula provides the perfect balance of protein, fat, and fiber to promote healthy weight loss in cats. With 15% fewer calories than their much-loved Adult Instinctive formula, it's no wonder it works so effectively. At just 54 kcal/oz can, it's one of the lowest calorie cat foods available that still provides a 100% nutritionally complete meal.
| | |
| --- | --- |
| Protein | 9.0% (min) |
| Fat | 1.6% (min) |
| Fiber | 2.1% (max) |
| Moisture | 84.5% (max) |
With a staggering 58% dry-matter protein content, it preserves muscle mass while helping your cat shed a few pounds effortlessly. Unlike many weight loss cat foods, the thin slices in gravy retain their appeal as well as the more calorie-dense formulas. Of all the 280 cat foods we analyzed while compiling this post, this one stands out as the best canned weight loss cat food around today.
2. Hill's Science Diet Adult Perfect Weight Food
This wonderful savory chicken-based diet cat food from Hill's Science Diet has been a huge hit with owners of overweight cats. Despite being marketed as perfect for cats of all weights, its effectiveness as a weight loss food is what we're interested in. A dry-matter protein content of almost 40.0% is very good indeed for a kibble based cat food, meaning you can expect your cat to lean up while retaining muscle.
| | |
| --- | --- |
| Protein | 36.0% (min) |
| Fat | 8.5% (min) |
| Fiber | 10.0% (max) |
| Moisture | 8.0% (max) |
At a mere 300 kcal/cup, it's clearly a food formulated from the ground up with weight loss in mind. Your cat will feel satisfied despite having consumed far fewer calories than they would from a regular formula. At the time of writing, 98% of reviewers on Chewy would recommend this food; which speaks volumes about its effectiveness.
3. Purina Pro Plan Focus Adult Weight Loss Food
Though specific formulas tailored for the best weight loss results in cats are never truly "budget" cat foods, this Purina Pro Plan option certainly offers excellent value. The 46.0% minimum protein content as served translates to a 52.3% dry-matter content, which is impressive to say the least.
| | |
| --- | --- |
| Protein | 46.0% (min) |
| Fat | 8.0% (min) |
| Fiber | 5.0% (max) |
| Moisture | 12.0% (max) |
A protein content this high means you can expect good lean muscle retention, and that your cat will feel full after each meal. The downside to such a high protein content is that at 427kcal/cup; it's not quite the lightest calorie cat food around.
Fear not, since Purina's feeding guidelines account for this, and fewer cups per meal equals MORE value for money. It's this incredible value for money that leaves 99% of reviewers recommending this diet cat food on Chewy.
4. Royal Canin Weight Care Food
With just 276kcal/cup, it's no surprise that Royal Canin's Weight care makes our list as one of the best cat foods for weight loss available today. Its ability to provide a nutritionally complete meal with such a low calorie count is fantastic, and the formula reflects the needs of overweight cats perfectly.
Royal Canin formulas are world-renowned for their effectiveness, so buyers choosing this food can expect results that rival those of prescription-only weight loss cat foods. As always, Royal Canin's options are far from the cheapest out there, but for quality ingredients and formulas backed with 40 years of science, you can expect no different.
If you can afford it at every meal, we think it's one of the most effective over-the-counter cat foods for weight loss ever made.
5. Purina Pro Plan Focus Weight Management Food
Here we have another of the best wet cat foods for weight loss in Purina's Pro Plan weight management formula. High in protein (12.0%), low in fat (2.0%); converted to dry-matter, those values are 54.0% and 9.0% respectively. Those are some seriously impressive numbers for a weight loss cat food.
As always, it's not just weight loss that's important; this food comes packed with vital nutrients like taurine and has omega acids to promote healthy skin and coat condition.
Purina has always offered exceptional value for money, and this diet cat food formula is no different. Pair this with a cheap dry weight loss food and your cat will be on their way to a healthy weight for little more than the cost of their regular diet.
6. Blue Buffalo Indoor Hairball & Weight Control Food
We've always loved Blue Buffalo foods for their focus on real-meat ingredients. This effective weight control food formula of theirs is another gem to add to the list.
With deboned chicken as the number one ingredient, this diet cat food stays reasonably light on calories (365kcal/cup) while remaining high in animal-sourced nutrition.
It features their famous LifeSource Bits, dark chunks of kibble that are packed with essential nutrients, amino acids, and vitamins that support a healthy immune system, among other benefits. Despite being a cat food for weight loss, it still offers a wholly nutritious meal that cats will go crazy for.
What Makes Weight Loss Cat Foods Different?

While researching this post, we wanted to be sure we fully understood what makes a cat food good for weight loss. We figured one of the best ways to understand what sets a weight loss cat food apart would be to compare it to formulas you'd expect to be similar.
We came across tons of recommendations for owners to switch to High Protein Formula cat foods or use Indoor Formulas instead of using weight loss formulas. Could they really be as good, or better?
We needed to dig deeper and find out for ourselves. So we did, and this is what we found.
Weight Control vs. Indoor vs. High Protein Cat Food Formulas
Have you ever wondered how cat food labels like "weight management", "indoor formula", and "high protein formula" stack up against each other?
You'll often see people claim high-protein formulas are best for promoting weight loss. That's no surprise since it has long been established that high protein diets are vital in retaining lean muscle mass in cats.
Studies have also shown, however, that high-protein diets can encourage cats to eat more. That definitely isn't ideal for a cat that needs to lose weight.
What about indoor formulas? We know that indoor cats have typically less active lifestyles that we should cater to with a diet that is lighter on calories. It makes sense that indoor formula cat foods have fewer calories than your regular cat food.
This lowered calorie count begs the question of whether indoor formulas could be suitable for use as a weight-loss food. Let's take a look at how the three formulas compare.
Comparing Calories in Weight Control, High Protein & Indoor Formulas
To find out how the three formulas stack up, we looked at 202 dry cat foods labeled with these formulas to compare how many calories (kcal) were in a cup on average for each.
Since a handful of the foods fit more than one label, we ended up taking averages from 92x Indoor Formula foods, 89x High Protein Formula foods, and 60x Weight Control Formula foods.
The following chart shows how Weight Control formulas, Indoor formulas and High Protein formulas compare in terms of kcal/cup.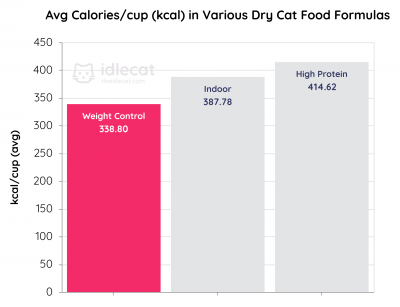 Weight Control formulas have considerably fewer calories (339 kcal) per cup on average than the Indoor (388 kcal) and High Protein (415 kcal) formulas based on the foods we analyzed.
Weight control cat food formulas are evidently formulated to be calorie-sparse; your cat can eat more volume of food while consuming fewer calories when compared to Indoor and High Protein formulas. This reduces the time they spend begging for food – easier for you, and easier for your cat.
In the context of weight loss, that's a pretty big win for Weight Control formulas.
---
Macronutrient Profiles of Weight Control, High Protein & Indoor Formulas
We looked at 280 cat foods labeled weight control, high protein, and indoor formula to find out a bit more about how they balance protein, fat, and fiber.
Because foods can fit in more than one of the labels, the final values we took came from 121x Indoor Formula foods (60 wet, 61 dry) , 127x High Protein Formula foods (62 wet, 66 dry), and 109x Weight Control Formula foods (55 wet, 54 dry).
Note: Wet food is typically higher in dry matter basis protein than dry food. We were careful to get a fair balance of wet/dry for each formula to get a fair estimation.
To compare protein, fat, and fiber values found on dry food packaging to the ones you see on wet food packaging; you need to take moisture out of the equation. What you're left with is a dry matter basis value that can be compared fairly.
Thankfully, all AAFCO approved cat foods are required to show minimum crude protein and crude fat levels, along with the maximum values of crude fiber and moisture. That's all we need to get a good estimation.
Let's break protein, fat, and fiber content down to see how the three formulas compare.
---
Comparing Crude Protein
Protein is very important and should make up the bulk of what cats consume, but more isn't always better. Domestic cats' diets have slightly deviated from that of feral cats (who consume almost exclusively protein & fat), but their ideal macronutrient ratios still maintain a very similar balance.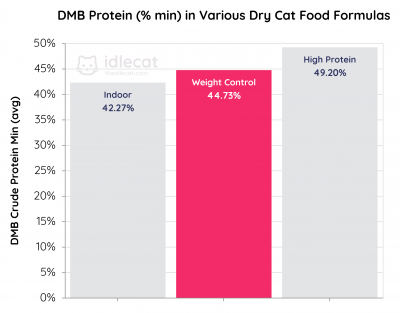 It's impossible to put an exact number on the amount of protein your cat requires, but recommendations generally range between 30% and 50% on a dry matter basis.
Let's see how the three formulas (Weight Control, Indoor, and High Protein) compare in terms of Crude Protein content on a dry matter basis.
Interestingly, weight loss cat foods are the middle-ground for crude protein content. Weight Control Formulas slot in nicely at 44.73%, coming right between Indoor Formulas (42.27%) and High-Protein Formulas (49.20%).
---
Comparing Crude Fat
In many cat foods, fat makes up more than 50% of the energy available to your cat. It would make sense, then, that a weight loss cat food would aim to cut down on fat, if anything.
Remember, a proper balance of macronutrients is essential, so trying to eliminate fats entirely is a terrible idea. You should instead favor high-protein, low-fat foods when aiming for weight loss.
Here's how the three different formulas compare in terms of Crude Fat content: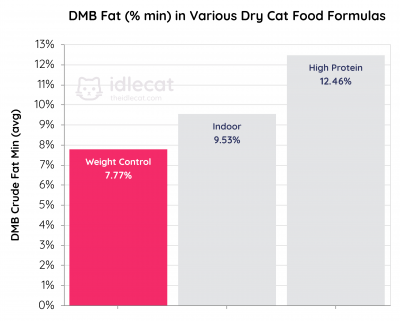 Exactly as expected, though the gap is surprisingly large. Weight Control cat food formulas contain considerably less fat (7.77%) than Indoor Formulas (9.52%), and a staggering 46.37% less fat than High Protein Formulas (12.46%).
---
Comparing Crude Fiber
A 2018 study on the effect that moderate-protein, high-fiber diets have on weight loss in cats concluded that they appeared to be safe and effective. Indoor formulas also tend to contain higher fiber content to prevent hairballs, something that indoor cats are more susceptible to.
Will it be the Indoor formulas with their hairball battling fiber-packed formulas that take the win here, or will Weight Control formulas surprise us?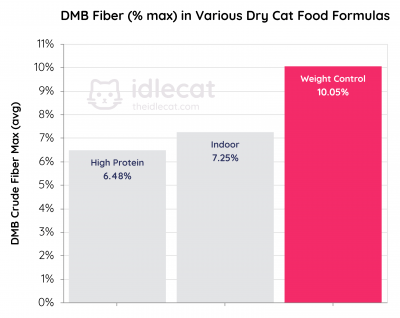 Well, if high-fiber diets are the answer to losing a few pounds, weight loss cat foods come out the clear winner. Weight control cat foods have considerably more crude fiber (10.05%) when compared to Indoor Formulas (7.25%) and High Protein Formulas (6.48%).
---
Summarizing the Differences Between Weight Control, Indoor, and High Protein Formulas
Our findings show quite clearly that weight control formulas are designed to be low in calories, moderate in protein content, low in fat, and high in fiber.
When we looked at 202 dry cat foods, we found that Weight Control formulas (339 kcal) had 13% fewer calories per cup than Indoor Formulas (388 kcal) and 18% fewer calories than High Protein formulas (415 kcal).
From looking at 280 dry and wet foods, we found that Weight Control formulas had…
A moderate protein content (44.73%) when compared to Indoor (42.27%) and High-Protein (49.20%).
A low fat content (7.77%) when compared to Indoor (9.53%) and High-Protein (12.46%).
A high fiber content (10.05%) when compared to Indoor (7.25%) and High-Protein (6.48%).
In conclusion, weight control cat food formulas would appear to be much better suited to the task at hand when compared to indoor formulas or high protein formulas. We'd say they're well worth a try.
Guide To Helping Cats Lose Weight With Diet Food

A surprising amount of cat owners aren't aware of the healthy weight ranges for adult cats. For most domestic cats, that range is between 8 and 10 pounds but this varies hugely depending on breed and body type.
It's important that you do your research into what constitutes a healthy weight for your cat (Maine Coon cats can be fine up to 25 pounds!). And different body types exist too- the average moggy can be a healthy weight at 5 pounds or 12 pounds, depending on build.
According to the APOP (Association for Pet Obesity Prevention) it's estimated that 59% of cats are overweight or obese.
A cat is usually described as obese if it's body-weight is more than 20 percent above the ideal level. Thinking in terms of percentages can really make the problem hit home. It's easy for us as humans to dismiss a few extra pounds as nothing serious, but an extra 2 pounds on a cat is the equivalent of a staggering 28 pounds on a 140-pound human. Imagine the feeling of carrying around all that extra weight just walking around, let alone jumping and running!
There are some telltale signs that should make it obvious if your cat is overweight just by looking at them. If your cat does not have a clear and visible waist/hip structure, if you can't feel their ribs easily, or if they have a stomach that hangs downwards, then it's likely that they're a little overweight at best.
This is where your veterinarian can come in really handy. They can weigh your pet, assess their 'body condition score' (i.e how overweight they are), and estimate you an 'ideal weight' to aim for — Dr. Joanna Woodnutt
Health Risks for Overweight Cats
The health risks for overweight cats can be severe: diabetes, heart disease, liver disease, arthritis, and in extreme cases, even cancer. Hopefully, this hammers home the importance of the food you choose, and its effect on your cat's health.
High blood pressure is a common issue in pets and can be exaggerated by obesity, leading to increased risk of organ damage or even loss of eyesight. Eyesight damage is caused by damage to the retina due to hypertension.
Arthritis levels in overweight cats are 3-5 times that of cats that stay within a healthy weight range.
Arthritis causes discomfort for them while jumping or landing and can be painful even when walking, leading them to become sedentary and gain even more weight, compounding the problem.
Overweight cats are also subject to extra precautions when it comes to surgery or anesthetizing. An obese cat would take longer to recover from anesthesia, meaning some vets may be reluctant to perform surgery that would otherwise be routine on a normal sized cat. Just as with humans, a cat that maintains a healthy weight will live a longer, more fulfilling life than an overweight cat.
Cats suffer from fat-induced diabetes. The extra fat causes the body to become non-responsive to insulin. In fact, if we can get cats back to a healthy weight quickly, many diabetic cats can go into remission, showing just how important being lean is for their health — Dr. Joanna Woodnutt
Why Your Cat Could Be Overweight

The biggest cause of obesity in cats is reckless overfeeding. The practice of free-feeding (making food available to cats 24/7) can be handed some of the blame. This is especially a problem for indoor cats, since their diets often need to be adjusted to account for the lowered activity levels of a life indoors.
In rarer cases, the cat may have a medical condition that predisposes them to obesity. If you think this applies to your cat, it's best to visit a vet and get them checked.
Obesity is more common in older cats because of the natural decrease in the cat's exercise. While the decreased activity is a natural process, being fed them the same quantity of food as when they were active is not. You should tailor your cat's diet to their lifestyle and age to help them maintain a healthy weight.
An average cat only needs about 200 calories each day, so regular overfeeding alongside treats and human food can cause weight issues very quickly.
Consider an ounce of cheddar cheese given as a treat. An ounce doesn't sound like much to us, does it? And I bet your cat tucks in. But that tiny amount contains just over 100 calories, 50% of the average cat's daily allowance! — Dr. Joanna Woodnutt
Treats are a huge contributor to weight gain in cats due to their high-calorie content. We recommend asking your vet during your next visit about the best course of action for supplying treats in a responsible manner.
Food that contains a lot of carbohydrates is likely to lead to weight gain since it is rich in calories and is not a natural part of a cat's diet.
Remember that cats don't feed themselves. You are responsible for ensuring they get the correct portion sizes for their weight and lifestyle.
Tips for Helping a Cat Lose Weight

Portion sizes
You should monitor portion sizes and adjust them according to how your cat's weight changes. If they continue to gain weight, it's best to lower it slowly until their weight becomes more manageable.
We've listed the recommended portion sizes for the best weight loss results for a few of the cat foods above.
If you're someone who's used to free-feeding your cat (leaving food out for them to eat whenever they want to) then you should look to change that habit.
If you are out of the house a lot, you can make use of an automatic feeder that will dispense food at a certain set time. Having a scheduler should prevent overfeeding while ensuring they get fed at an appropriate time of day.
Interactive feeding
Consider utilizing an interactive feeder to make mealtimes more of a challenge. While it may seem like an annoyance, cats need both mental and physical stimulation, so making them work for their food can provide them with both.
It should also slow them down a bit, leading them to feel satisfied from a meal rather than scoffing it all down in a matter of seconds. And it encourages them to exercise, burning off calories.
Extra activity
Play with your cat. There are plenty of exciting and engaging toys out there that you can enjoy with your cat and keep them active and moving in the process. You should aim to get them moving and chasing for between 20 to 30 minutes each day.
If time is a little short, and you can't provide them with that engagement every day, look for options that will let them entertain themselves. Most cat furniture for homes come with toys that cats can use to keep themselves entertained, though it shouldn't serve as a complete replacement for human interaction.
What to Look for in Weight Loss Cat Food
One of the essential factors when tailoring a cat's diet for weight loss is the macronutrient ratio of the food you choose. The macronutrient ratio refers to the balance of protein, fat, and carbohydrates.
Carbohydrates are typically used in cat foods to pack them out, glue kibble together, and make the food go a little further. To achieve this, they often sacrifice either protein or fat content in the food, both of which are vital to cats.
Carbohydrates aren't necessarily bad, but if they aren't a necessary ingredient, then you shouldn't be sacrificing protein to include them. It's best to look for low carb cat foods with a high-to-moderate protein content to give your cat the best chance of losing weight healthily.
A diet that contains too many carbohydrates and not enough protein leads to a loss in lean muscle. This loss of lean muscle, in turn, reduces the metabolic rate of your cat and can lead to further weight gain if their diet isn't adjusted to account for the change.
The best weight loss foods for cats feature high-quality protein in quantities of 40% or more on a dry matter basis.
Getting Your Cat Onto A Diet Cat Food

Start by getting your cat seen by a vet. They'll be able to weigh your cat accurately, and let you know how much weight they need to shift to get to a healthy weight once again. A vet will also be able to identify any medical conditions that should influence your choice when choosing a suitable weight loss cat food.
Remember that cats are fussy, and a sudden swap from glorious rich food to a weight-loss food might not be the best way to go about it. Most manufacturers recommend you gradually introduce your cat to weight loss foods by mixing them in with their current diet.
You can start as low as a 15% mix of the new low-calorie cat food with the food they currently eat, and gradually up that over two weeks or so. This gradual introduction makes the transition as seamless as possible from the cat's point of view and removes the risk of them flat out rejecting the new food.
Another option is to offer both foods side by side, with the new food in the favourite bowl and the old food in a less-good bowl. Slowly reduce the amount of old food available over time to encourage your cat to eat the diet food. — Dr. Joanna Woodnutt
Gradually moving onto the same quantity of lower-calorie cat food is the best practice. Doing so will remove any temptation to reduce the amount of food you give your cat drastically.
Remember to keep an eye on your cat to make sure they're still eating. Starvation diets are hazardous for felines as they require an adequately nutritious diet to avoid illnesses like hepatic lipidosis. Hepatic lipidosis is a liver disease that overweight cats get when they eat too little too suddenly, so making sure they eat a nutritious meal should be your primary concern.
Avoiding hepatic lipidosis is the other reason why consulting your vet is important when designing and implementing a weight-loss diet for your cat.
Did you find this article helpful?