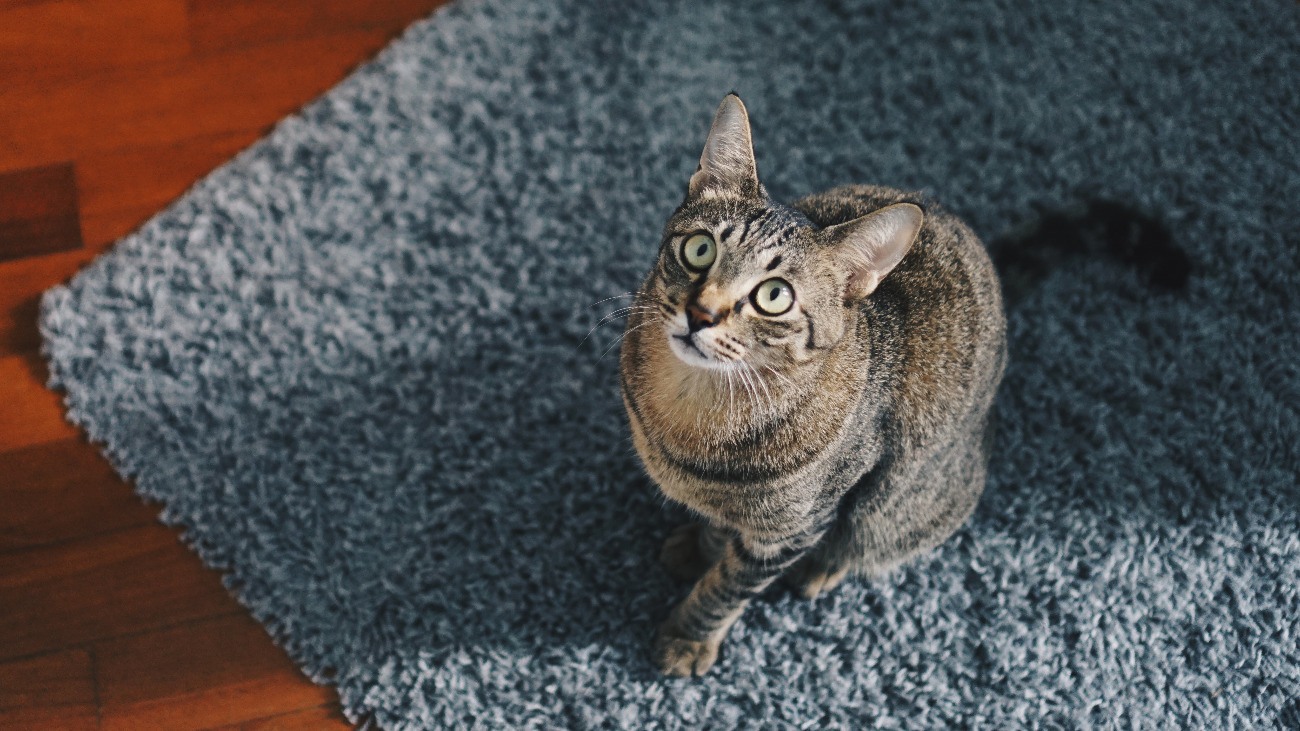 Cats are superbly easy to toilet train, but the cat litter they use inside the home can get everywhere with little encouragement. There is a way to prevent that from happening though.
The cat litter mat was created to stop litter being tracked all over the place. Manufacturers have created some ingenious designs, and while some have better results than others, many owners now use them to minimize clean-up time. We've scoured the market to come up with six of the best cat litter mats to help you attain litter tray tidiness every day.
With all things considered, we believe the iPrimio Trapper EZ Clean to be the best cat litter mat available today. It traps dust incredibly well and is super easy to clean as well as being very affordable.
You'll soon see the following mats have some features in common. Designs vary, but all have the same desired outcome. Prices vary too, according to size, design, brand, and other features. There are premium mats and standard mats, one of which could be a boon to have in your home.
We've highlighted the main features of each of the best cat litter mats here, so you can more easily compare them to each other. Always double check measurements before you buy and remember that good quality means a longer-lasting litter mat for you and your cat.
The Best Cat Litter Mats
1. iPrimio Trapper EZ Clean Cat Litter Mat
Available in black or tan to suit most homes, this iPrimio mat opens like a book and consists of two specific layers.
The top layer features a honeycomb pattern that allows litter to fall through to the bottom layer. This is lined with plastic to protect your floors. It also means anything that falls onto the mat remains on the mat.
The dual layers ensure clean-up is fast and simple, with the plastic layer designed to combat the odor of urine. The mat measures 30in by 23in and is also available in a jumbo size for larger litter tray requirements.
Combine this brilliant cat litter mat with an effective low-dust cat litter for even better results.
2. Petmate Catcher Cat Litter Mat
This affordable mat is available in several colors and large and extra-large sizes. There is even a half circle design included in the range. The mat is made from rubber to prevent it moving around once in position.
The surface is designed from lots of tiny rubber swirls, so any litter on your cat's paws is caught in the surface rather than being spread over your floor. This also serves to attract the litter from your cat's paws before it gets a chance to travel elsewhere.
Bonus point: We put a large size Petmate Catcher Litter Mat under our favourite value automatic litter box, and its soft spongy texture worked wonders to reduce the low vibrating sound made when operating on wood floors or tiles.
The design includes a cute paw print at each corner.
3. Petlinks Purrfect Paws Gray Cat Litter Mat
Available in three convenient sizes, the Petlinks Purrfect Paws mat features a surface filled with holes both small and large.
Any litter on your cat's paws falls into the holes and stays there until you pick up the mat and shake it free. This means you can shake it into the litter tray or into the trash if you prefer.
The rubber mat is easy to clean once emptied of litter and dries quickly too. It doubles as a useful mat to place under food and water bowls to avoid spillages on your floor. A great purchase if you get two!
We found the Extra Large option to be the perfect size for containing the mess of a few felines, which is inevitable even when using litter designed for multiple cats.
4. Fresh Kitty Jumbo Foam Chevron Cat Litter Mat
If you are looking for an affordable cat litter mat, this Fresh Kitty option could be just the thing to get.
Made from foam rather than rubber, it can easily be placed in the washing machine when cleaning is required, giving you supremely easy cleanup. Measuring a sizeable 40in by 25in, it features a striking chevron design and provides a soft surface for your cat to step onto.
The surface is ribbed to ensure the litter stays on the mat too. At this price, you could buy two – one to use while the other is in the wash.
5. Pet Magasin Cat Litter Mats
This great two-pack gives you a superb solution to cat litter woes, with a spare mat to use by the back door or anywhere else it is needed, such as underneath their food and drink bowls.
The charming paw print design is available in a beige color that is well suited to many areas of the home. Available in small or extra-large, the mats are scratch resistant and designed to catch stray litter, food, or anything else your cat may have on its paws.
Rinse through with cold water to clean in seconds; the mats dry easily too.
6. Caldwell's Original Cat Litter Mat
This original design has a cute cat pictured in one corner and a border around the edges.
The remainder of the mat features a curly rubber design that traps any litter from your cat's paws in the mat. The thick PVC material is easy for you to clean and safe for your cat too, thanks to the non-toxic finish.
It measures 35.5in by 24in and yet is just a quarter of an inch thick, making it suitable for many different sizes of litter tray. A quick shake is ideal whenever required, but the mat can also be washed in soapy water for a proper clean.
Things To Keep In Mind When Buying Cat Litter Mats

Cats are far easier to potty train than dogs. In fact, all most cat owners need to do is to show their cat where the litter tray is… and that's it. They figure out the rest for themselves.
Trouble is, while they are happy to use a litter tray, they're also happy to tread litter all around the house if given half a chance. It's not deliberate, but litter can get stuck in their paws and then shaken off as they leave the tray.
Once you've swept or hoovered up litter a few times during the same day, you'll be looking for a solution to this little problem.
Fortunately, there is one – the cat litter mat. It's a simple idea yet it can be hugely effective. Some are better than others, of course, but our guide will steer you in the direction of what to look for when you are faced with this problem.
A good size is wise
A good mat must be larger than the litter tray for it to work. Your cat should have ample room to step out of the tray and onto the mat, where any litter can be dropped prior to leaving the mat area. Some are large enough to accommodate two litter trays, or very large litter trays (which are best) – handy if you have more than one cat.
Some designs are available in just one size whereas others have options. Always measure your litter tray to confirm your preferred mat would suffice. Remember that you can position the litter tray next to a wall, thus making the most of the mat area your cat can step onto each time.
Having enough of a landing area is also crucial if you use a top-entry litterbox. Though some of the best top entry litter boxes help to reduce dust tracking, it's still an issue if they clear the box and surrounding area in one swift jump, so keep that in mind.
Make sure it has a non-slip backing
The last thing you want is for your mat to slide around on the floor as your cat uses their tray or as you try to clean it. Most of the best ones have rubber backing or another type of non-slip surface to sit on your floor. Make sure the one you choose is appropriate for carpet, laminate, or hardwood floors as appropriate.
Look for a bumpy or uneven surface to catch as much stray litter as possible
One thing all cat litter mats have in common is a design that is intended to stop litter being tracked out over your floor. That means making sure the litter is caught within the mat yet can still be easily shaken out or washed out by you.
You'll see phrases such as honeycomb design, bumpy surface, uneven surface, mesh, and similar things mentioned in the product descriptions for such mats. The idea is that when the cat treads on it, any litter caught in its paws will be dropped into the spaces on the mat rather than taken out into your home.
Easy to wash and keep clean
Most mats are designed so they can be hosed or washed off in seconds. Alternatively, you can hoover them if you want to. There shouldn't be any need to put them in the washing machine, as a quick spray with a hose or similar should suffice.
Some mats are made from two layers that are bonded together around three edges. The idea is that you can then pick up the mat, push two sides together, and let any trapped litter slide out from the bottom section of the mat and back into the litter tray. You can hose these down just as easily too.
Made from safe materials
Look for phrases such as BPA free and phthalate free. These are designed to protect the health of your cat by not exposing them to nasty chemicals and similar things that could potentially harm them.
Look at color options too
This is probably the least important thing to think about. However, some mats do come in assorted colors, which might be an important consideration for you. If no color options are available, you'll usually find the mats come in a standard gray shade that would fit in well anywhere.
It should be scratch proof too
This is important because, well… cats love to knead and scratch, don't they? The mat should be designed to withstand this for as long as possible. Nothing lasts forever, but a good mat shouldn't be easy to scratch. Even though the scratches may look minimal, they can end up being hotspots for bacteria to lurk. You'll never be able to clean them thoroughly, which could increase the risk of infection for your cat… and for you too.
One final point
Before you make your purchase, do remember that no cat litter mat is going to be 100% perfect.
Some cats love to test those mats by taking litter out with them whenever they use the tray. You are still going to find some litter on your floor… just far less than you would have done otherwise.
Conclusion
There is far more to the humble cat litter mat than you might think. It may seem like a superfluous item to buy, but you can probably now see just how important – and useful – it is.
Your cat may hardly notice it is there, but you'll appreciate the reduction in litter being trodden all around your home. You'll wonder how you ever got by without one.
Did you find this article helpful?