It's no secret that cat lovers also love a good cat themed gift. Whether you're a cat lover yourself, or looking for the best gift for someone who's bonkers about cats, we've rounded up the most exciting and creative gifts around to make things a little easier.
Our pick of the bunch and prize winner of the best gift for cat lovers award goes to the PyroPet Cat Candle. Let's take a look at some other purrfect options that are just as likely to put a big grin on any cat enthusiast's face.
The Best Gifts For Cat Lovers
Brighten up a cat lovers' day with one of these perfect cat themed gifts. We've got you covered no matter your budget, from interactive gifts that tighten the bond between owner and pet to gorgeous decorations that set off a room. Here are the best Christmas gifts for cat lovers that are creative enough to guarantee a smile.
1. PyroPet Cat Candle
This adorable cat shaped candle from PyroPet is sure to light up the face of any cat lover.
They're around 6 inches in height and are available in a few different colors. We thought pink was best, looks so pretty during a cande-lit bath. You can expect a burn time of approximately 20 hours and it slowly melts away to reveal a metallic cat skeleton beneath. In complete darkness you can make out the shape of the metallic skeleton as the candle burns and it looks absolutely amazing.
They smell gorgeous and are really unusual in appearance. It has a modern art style geometric shape which definitely adds to the charm of the candle. We ordered the pink candle and it came packaged in a beautiful pink gift box – so no last minute wrapping required!
A really charming and thoughtful gift. Easy 5 star review.
2. Petzi Treat Cam
The Petzi Treat Cam is a remote treat dispenser that can be controlled via the web. You simply pop open your phone and connect to your Petzi device. It then makes a jingle that prompts your cat to come running for some tasty treats. If that isn't enough to make their little ears perk up, there's a built in microphone that lets you call them through it!
The app is available on both Android and iPhone and has a tonne of different features that make it great value for money.
It dispenses treats at the push of a button and in return you get the treat of some cute live footage of your cat staring right back at you through your phone! Everyone's a winner.
We have had endless hours of fun with this toy. Being able to see your cat in real-time whenever you're away from the house has made the Petzi Treat Cam a smash hit with cat owners around the globe, and rightly so, we feel it's something most cat owners are missing out on. It's the best way to brighten up your day at work.
All in all, it's an amazing creation that provides hours of fun and engagement. This is the best opportunity you'll ever get to have close-up footage of your cat, it's absolutely priceless.
Slight warning though, it's ridiculously tempting to get this out every 5 minutes and show everyone you meet your cat in real time (it's absolutely adorable, honestly). We've been lucky enough to try a few remote pet dispensers, but feel this offers the best value for money of the bunch.
3. GUND Pusheen Plush Cat
Without a doubt the cutest option on our list of cat gifts.
This plushy Pusheen toy is adorable beyond belief. It comes in a variety of different designs, from pizza holding kitty to birthday celebrations kitty. Cupcake kitty was the best in our opinion.
For the uninitiated, Pusheen is a cat who is the subject of numerous hilarious comic strips and stickers that began appearing on social media in 2010. It's since grown into a very recognizable brand and is a real favorite among cat lovers.
Made from a microfibre cloth (the best material), it's super soft to the touch and feels like a really high quality product all round. They are reasonably sized (small children can use it as a pillow), unbelievably cute and extremely huggable.
These plushy toys from GUND are definitely a go-to purchase when looking for the best gift for young cat lovers.
4. Cat Shaped Wine Holder
Cute and practical? You bet!
This classy looking cat shaped wine holder from Tooarts will keep your bottle of wine safely tucked in the arms of an adorable little cat. It stands strongly and shows the entire bottle label which is a big plus for wine drinkers who have a few bottles lying around.
It's around 13 inches in height, 4 and a half inches wide and hugs a standard wine bottle tightly. Usually with novelty themed items you expect to compromise some practicality but this is an all round solid product.
Seeing this little cat's face poking out from behind a bottle of their best wine is sure to brighten anyone's day.
Recommended for those who enjoy both cats and a nice glass of wine.
5. Ceramic Cat Measuring Cups
While at the bottom of our list, these ceramic cat measuring cups are definitely the best gift for cat lovers who also have an interest in baking or cooking.
You get 4 hand painted measuring cups that nest beautifully together for easy storage (even though they are too adorable to pack in away in a kitchen cupboard). They have a sturdy feel and appear to be quite durable.
This set makes for a really quirky, unique gift that combines two passions. A definite pleaser.
Finding Perfect Gift Ideas For A Cat Lover
It's hard, we know! Deciding on the best gift is notoriously difficult regardless of the circumstance. Luckily, the fact that you've arrived here and are reading this suggests you've at least narrowed things down to a cat themed gift.
We've done our best to bring to your attention what we think are the best gifts for cat owners, but if you're still lacking inspiration, let's run through a few possibilities.
Boosting Pet Engagement
Does your subject crave more engagement with their cat? Cats are well known for being seemingly independent, that's half of their charm. But perhaps a gift that brings the owner closer to their pet is the best gift you can give. We've already mentioned the fun we had with the Petzi treat cam and there are plenty of other options that follow a similar theme.
We intentionally avoided mentioning the best products and toys aimed at cats in this list, but it's definitely something worth considering if you're still struggling for gift ideas. There's a huge selection of creative toys for cats that are bound to get their attention and allow owners to spend more time around them.
Cat Themed Gifts
Are they just mad about cat designs in general? It might be best to consider some more ornamental products, the PyroPet candle we reviewed above is a perfect example of a tasteful cat themed gift. We think a cat candle is an especially brilliant idea because it's not something that hangs around forever.
A word of warning, we'd advise that you stay away from clothing items featuring cats unless you're absolutely sure of what the person's tastes are. Buying clothes for someone else is a whole other headache we won't get in to right now. That's not to say they won't appreciate the odd pair of novelty socks though.
Conclusion
So there you have it. Hopefully we've sparked some thought and given you some rough best gift ideas that you can build on.
If all else fails, there's no shame in giving up trying to be creative and just go mad with novelty gifts. Who wouldn't love a cat shaped back scratcher, eh?!
Don't forget to get a card!
No gift is complete without a lovely card to accompany it. We can't get enough of these gorgeous pop-up cards from Cardology.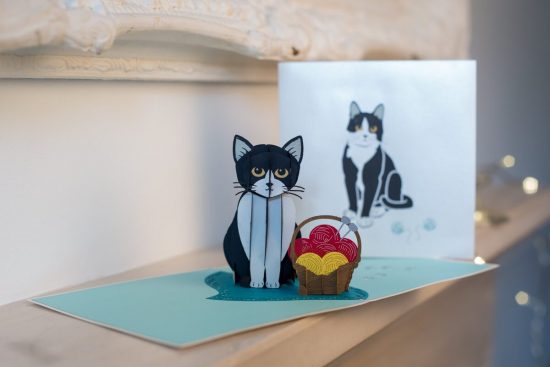 They have a wide selection of cards including some adorable cat themed cards that are perfect for any occasion. They ship internationally too – meaning regardless of your location you can have a creative pop-up card delivered right to your door. You can check out more over at https://cardology.co.uk.
Below are what believe to be the best gifts for cat lovers for Christmas, birthdays and anything in between.
Did you find this article helpful?