As cats age, their dietary and nutritional requirements change. Cat owners are becoming more and more aware of this, and as such we've seen that more owners than ever before are on the lookout for the best cat foods for older cats.
In case you're already totally clued in on the ins and outs of the dietary considerations in senior cats, then we'll get straight to the point and make some recommendations.
We recommend..
3 items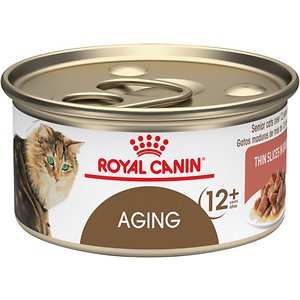 Best Senior Formula
Royal Canin Aging 12+ Canned Senior Cat Food
Check Current Price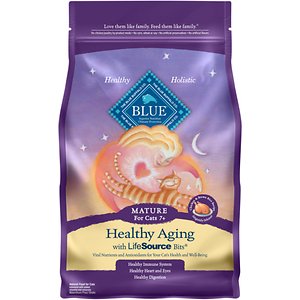 Best Value For Money
Blue Buffalo Healthy Aging Dry Senior Cat Food
Check Current Price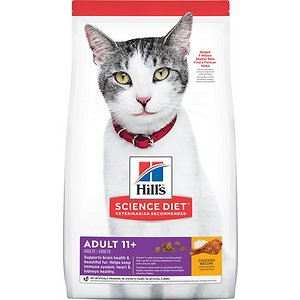 Improved Formula
Hill's Science Diet Adult 11+ Chicken Recipe Dry Senior Cat Food
Check Current Price
Senior cat food formulas differ significantly from manufacturer to manufacturer, but a common trend is a slight increase in fiber to help aid digestion. You're also likely to see a reduction in fat content, reflecting their less active lifestyle. Each of our picks offers a perfectly balanced diet; it's a matter of making the correct decision for you and your senior cat.
Best Cat Food For Older Cats
Though caloric content and protein counts are important factors, they aren't the only figures that define a good cat food for older cats. There's a little more to it and that, but we'll talk in more depth as we walk through each product pick.
When reading, remember that protein, fat and other macronutrient contents are measured "as served". Wet foods typically list 5-10% protein content, while dry packaging reads 25-30%; these ranges usually equate to roughly the same dry-matter protein content (once moisture is accounted for). Here are the best cat foods for older cats, providing a balance of protein, fat, and fiber that is perfect for seniors.
Royal Canin Aging 12+ Canned Senior Cat Food
Protein: 9.0% (min) | Fat: 2.5% (min) | Fiber: 1.8% (max) | Moisture: 82.0% (max)
Royal Canin produces some of the highest quality specialist health formulas available to cat owners today. Their rich history of conducting industry-leading research into cat nutrition means each formula is finely tuned to meet specific needs. With their senior cat food, the formula features a macronutrient profile that better fits older cats. It's also packed with goodies to keep joint health, kidney health, and other common complains in older cats. The tender slices in gravy are perfect for cats who struggle with crunchy stuff due to dental issues. We can't recommend this cat food enough if your budget stretches to allow it. Royal Canin Aging 12+ Senior Canned review.
Blue Buffalo Healthy Aging Dry Senior Cat Food
Protein: 32.0% (min) | Fat: 15.0% (min) | Fiber: 5.0% (max) | Moisture: 9.0% (max)
Blue Buffalo has a history of creating affordable formulas that make no compromises in terms of ingredient quality. Their Healthy Aging formula features deboned chicken as the number one ingredient and boasts a 32.0% protein content and 15.0% fat content. Natural sources of fiber total up to 5.0% max, which is more than enough to keep your older cat's digestive tract ticking over healthily. Blue seems to achieve incredibly value for money with each of their cat food formulas, and this senior cat food formula is no different. It's hard to find a cat food with such high-quality ingredients in this price range, so it's no surprise they earn a spot on our list. Blue Buffalo Healthy Aging Dry Senior review.
Hill's Science Diet Adult 11+ Chicken Recipe Dry Senior Cat Food
Protein: 28.0% (min) | Fat: 18.0% (min) | Fiber: 3.5% (max) | Moisture: 8.0% (max)
This senior cat food formula from Hill's Science Diet is one of the best cat foods for older cats available today, without a doubt. Hill's recently revised their formula to better cater to the needs of older cats, and the response from the community looks to be excellent. Chicken remains the number one ingredient and is coupled with natural sources of vitamins and antioxidants to support your cat in its old age. Hill's manufacturer their foods in the USA, with a focus on excellent ingredient quality. Their focus on delivering deliciously healthy senior cat food is reflected in opinions of the 95% of buyers on Chewy who would recommend this food. Hill's Science Diet Adult 11+ Senior Dry review.
Blue Buffalo Freedom Indoor Mature Canned Senior Cat Food
Blue Buffalo's freedom indoor mature senior cat food caters perfectly to the needs of older cats. Their grain-free senior formula is inspired by wild feline diets and features chicken as the primary ingredient. Omega 3 and 6 fatty acids sourced from natural ingredients like flaxseed ensure that your cat's skin and coat remain healthy as they grow old and wise. The formula includes plenty of vitamins, minerals, and taurine, to help them to stay healthy while maintaining a steady weight despite their lowered activity. Suitable for use alongside dry food, we think this offers some of the best value around in terms of wet food for older cats.
Purina Pro Plan Focus Adult 11+ Classic Senior Canned Cat Food
Another classic formula from a huge brand name in pet food, Purina. Their Pro Plan range focuses on providing unbeaten nutrition to cats of all ages. This 11+ adult senior formula excels at providing older cats everything they need to feel young again. Each serving is packed with twenty-five vitamins and minerals, along with taurine to promote healthy cell development. This grain-free formula boasts salmon and liver as the two primary ingredients, and as such reaches 10.0% minimum protein content with 78.0% moisture. Those figures equate to a 45.0% dry-matter protein content, far surpassing the minimum AAFCO recommendation of 26.0%. We love this cat food and think it's one of the best affordable cat foods for older cats available today.
Guide To Buying Cat Food For Older Cats With Confidence

What differences should there be in an older cat's diet?
Just as with us humans, old age brings many physical changes to cats and as such, their diets need to adjust. You should still always be sure your cat receives a nutritionally complete meal, but certain adjustments in nutrient levels can make their lives a little easier. The same changes are seen in dogs as we see in cats, too; lowered energy levels and a calmer lifestyle call for senior dog foods to replace adult formulas.
More moisture required
As cats age, they become prone to fatigue and dehydration. This fatigue is partially caused by decreased energy levels, making them far less likely to actively seek out fresh water.
Dehydration can cause serious illness in cats, ranging from constipation to liver failure, so it's absolutely vital your cat stays hydrated all year round. If you leave water out for your cat but find that they rarely drink from it, you should consider investing in a cat water fountain. Cats are more inclined to drink from running water, so these water fountains work a treat to get them drinking.
Soft wet foods for older cats
Opting for a wet senior cat food will not only aid in combating dehydration, but it will also make eating easier for cats with teeth problems. Older cats often have tooth issues that can make eating kibble a painful experience, so a softer wet cat food is kinder on the teeth.
The extra aroma from wet food for older cats as opposed to dry is also much more enticing. Serving canned senior cat food can and will improve their appetite if it's something they're struggling with.
Slightly more fiber
Fiber is essential for digestion. As cats age, their digestive systems can struggle to process certain proteins. As a result, they may not be getting all the nutrients their food provides.
A good cat food formulated for older cats with increased fiber can also work best to ease the symptoms of inflammatory bowel disease. Fiber is most commonly found in high levels in dry cat food, though it's worth converting the macronutrient values to dry-matter values to be sure.
Lower fat content
As their digestive systems slow, so does their ability to digest fats. Coupled this with a decrease in general activity and exercise, and it becomes an obesity risk, something which is increasingly common. Lowering the fat content in a senior cat's diet reflects their less active lifestyle, helping them to maintain a healthy weight.
How much should I feed my senior cat?
Portion sizes generally depend heavily on the current weight of your cat, and the food you're feeding them. Cat foods vary significantly in caloric density. As little as an eighth of a cup of dry cat food can be the difference between your cat gaining weight or losing it.
If you're struggling to manage portions (something very common with dry senior cat food), then you should look at options that manage portions automatically. They not only allow for scheduling but also portion control.
Should you have any concerns about your cats' weight, whether too big or too small. You should always visit a veterinarian first to get advice on what to do. A sudden change in a senior cat's diet can be detrimental to their health.
If you do need them to shift a few pounds, there are weight loss cat foods that specialize in helping them do this healthily. These still rely on correct portioning though, so it's best to start there.
Likewise with gaining weight, if your cat is suffering from a lack of appetite and has lost weight, you can encourage a shift towards a healthy weight with a high calorie cat food designed for weight gain.
Are there supplements to help older cats?
Yes, there are, but you should take extra caution given senior cats' inferior digestive system. If a supplement for older cats contains potent compounds that they can't break down, it'll have a far more significant effect on their liver and other organs than it would on younger cats that have healthy digestive systems.
There are too many on the market for us to cover them all, so make sure you thoroughly research any vitamin or supplement you plan on using alongside your senior cat food to ensure they're safe for older cats to consume.
Our Conclusion
Stick to premium brands that offer formulas targeting older cats specifically. These specially made cat foods for older cats will have the correct balance of nutrients required for senior cats' lifestyles and help them stay healthy for longer.
If you can stretch your budget, higher-end senior cat food manufacturers like Royal Canin are worth the money, though the price tags can sometimes make them hard to justify as a day-to-day food. Thankfully there are plenty of options like Blue Buffalo or Purina to cater to the middle price range. You'll be in safe hands providing you stick to well-known manufacturers, and choose a food labeled for older cats.
Did you find this article helpful?