Underweight cats face a much higher risk of serious health problems and a lower quality of life than cats that maintain a healthy weight all year round. These wonderful weight gain cat foods are perfect for encouraging weight gain in a controlled, healthy manner. We'll help you pick wisely.
On this page:
Opting for high protein foods is often the key, but a change in feeding habits can also work wonders. In most cases, free feeding your cat by leaving a bowl of food lying around 24/7 is a bad idea, but for an underweight cat it may just be what's required. Here are our some quick recommendations for foods.
We recommend..
3 items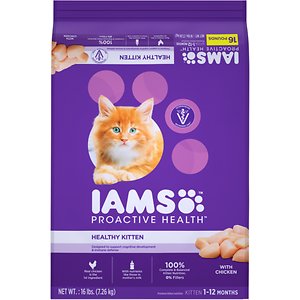 Best Weight Gainer
Iams ProActive Health Kitten Dry Cat Food
Check Current Price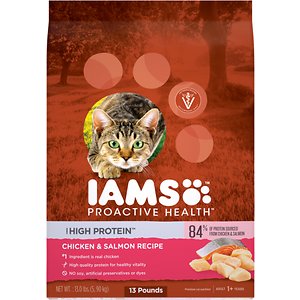 Our Cat's Favorite
Iams ProActive Health High Protein Chicken & Salmon Dry Cat Food
Check Current Price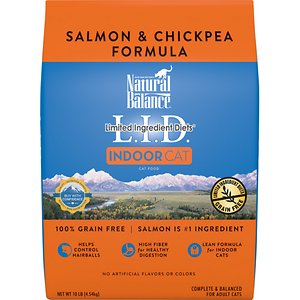 Best Budget Buy
Natural Balance Limited Ingredient Indoor Formula Dry Cat Food
Check Current Price
Comparison of Weight Gain Food Profiles
To ensure that your cat gains weight at a healthy rate, and continues to maintain that weight, you should look to purchase foods that contain a good balance of protein and fat. A lot of cat foods push calorie content up by including carbohydrates that aren't naturally part of your cat's diet. Carbohydrates can be a worthwhile source of energy, but you should prefer a higher fat content instead where possible.
The Best Cat Foods For Weight Gain
Once your cat has successfully transitioned to a food that's more suited to their lifestyle and is eating healthily, you can manage their weight by portion control.
Suitable foods are readily available, and don't always cost as much as you'd think. Everyone wants a good value cat food, whether you're hoping to help your cat put on weight or lose it. We've tried to balance cost with effectiveness to bring you a varied set of options. Below is a list of the best high calorie cat food for weight gain, with recommended portion sizes where available.
1. IAMS Proactive Health Kitten Food
Protein: 33.0% (min) | Fat: 21.0% (min) | Fiber: 3.0% (max)
If you're looking to help your adult cat gain weight, then don't be alarmed by the name or branding of this food, it's perfectly suitable for adult cats to gain weight.
In fact, since kittens require higher levels of protein and fat to grow and develop it's actually one of the best candidates for a weight gain food for cats of any age.
Kitten food is also geared at sensitive digestive systems, so you can be sure that even the fussiest of eaters will have no trouble while transitioning to this high calorie food.
We estimate that IAMS Proactive Health Kitten contains around 416kcal/cup. The ingredients are well labelled and all add up, but there's no calorie count per cup available from an official source. After searching high and low for a suitable value, we found it listed online as 3,990kcal/kg in total.
It contains an impressive 33% protein, and 21% fat. That fat content might seem pretty high at first. As humans we're conditioned to believe that fat is a bad and we should avoid it, but it's an extremely important part of both our own diets and that of our cats'.
If your cat needs to put on weight then upping fat content is a perfectly acceptable solution provided it's balanced with a high protein intake. Remember that cats in the wild hunt for live prey and as such survive almost exclusively on a diet of protein and fat.
We think this is a great solution for helping underweight cats put on a few pounds in a healthy way. It's a food for kittens from a well respected brand so you can be sure there's no nasty additives or fillers.
2. IAMS ProActive Health High Protein Food
Protein: 38.0% (min) | Fat: 18.0% (min) | Fiber: 3.0% (max)
Not only is this high calorie cat food the snazziest looking on our list, it's also one of our favorites for weight gain!
It boasts a calorie count of 371kcal/cup which is great news for those who's furry friends need to pack on some weight.
Packed full of natural foods, vitamins and antioxidents (in the form of blueberries), it's a real all rounder that is guaranteed to impress.
It has a minimum protein content of 38% which is very respectable, and a fat content that's slightly lower than the kitten food at 18%.
If you take a quick peek at the manufacturer's website for this product, you'll find that the most common complaint is that people can't find it in stock anywhere! No worries though, there are plenty of online retailers that can deliver it right to your door.
Here are the recommended portion sizes for a healthy weight, though you may wish to bump these up ever so slightly to help your cat gain weight fast:
| Weight | Amount |
| --- | --- |
| 4 lbs | 1/2 Cup |
| 8 lbs | 2/3 Cup |
| 12 lbs | 3/4 Cup |
| 16 lbs | 1 Cup |
We're really impressed with this from a weight gain perspective, and rate it as one of the most promising cat foods around for weight gain.
3. Natural Balance Limited Ingredient Food
Protein: 30.0% (min) | Fat: 8.0% (min) | Fiber: 8.0% (max)
Natural Balance are a well known and much loved cat food manufacturer who have established a lot of trust with cat owners since they started out back in 1989. The company name is practically synonymous with top quality healthy cat food.
This 100% grain free option with only the best quality salmon boasts a high protein content and the highest calorie content per cup on our list at 410kcal/cup.
There are absolutely no artificial colors or flavors, making it perfect for those with sensitive digestive systems and are prone to throwing up (eww!).
Many a cat owner has testified that their cat goes crazy for this food. Plenty also noticed a softer, silkier coat after just a few weeks of transitioning.
Natural Balance recommend the following feeding portions (8oz dry measure cup):
| Weight | Amount |
| --- | --- |
| 4-7 lbs | 2/3 Cup |
| 7-10 lbs | 3/4 Cup |
| 10-13 lbs | 7/8 Cup |
| 13-16 lbs | 1 Cup |
Since you're trying to get your cat to gain weight, it may be best to start with those recommended amounts at first, then gradually increase the portion size until you see them starting to fill out a little.
4. Purina ONE Tender Selects Blend Food
Protein: 34.0% (min) | Fat: 13.0% (min) | Fiber: 2.0% (max)
Next up we have Tender Selects Blend from Purina. I really don't need to say anything about the quality this brand name assures, I'm sure we're all aware by now who Purina are.
Created in Purina-owned factory in the US, it contains no fillers and boldly claims that each ingredient is there for a purpose (a purpose that's beneficial to your cat, that is!).
The vet-recommended formula contains a wide range of different vitamins that promote healthy living in cats. Underweight cats will benefit from these greatly, since they're likely lacking in nutrition due to their current diet.
We've seen many owners swear by this food, and it's reasonably inexpensive given the health benefits it promises.
We'd recommend a smooth transition from your existing food to this one if you opt for it. That is likely to give you the best results in weight gain since you'll have much less of a chance of any upset to your cat's digestive system.
Check out the sheer volume of positive reviews this food received using the button above.
5. BLUE Buffalo Adult Dry Cat Foods
Protein: 34.0% (min) | Fat: 14.0% (min) | Fiber: 4.0% (max)
Last but not least, we have Healthy Living from BLUE.
Again, another food with a high protein content (34%), and a decent amount of fat (18%). These are exactly the kind of levels we're looking for in a cat food for weight gain.
The reviews for this cat food are outstanding, meaning that we aren't alone in singing its praises.
They offer a huge range of different formulas each with different high quality meats and health benefits. It's worth checking out to see which of their options is best for you.
We're sure you'll be just as impressed with this cat food as we have been with every BLUE product we've gotten our hands on.
A definite winner.
How to Help your Cat Gain Weight
It can be frustrating to watch your precious furry friend turn their nose up at food and lose weight in an uncontrollable manner.
We'll talk about a few of the most common concerns cat owners have for their underweight cats and how to fatten them up to a healthy weight. Let's kick things off with some simple tips.
Tips for Weight Gain in Cats
If you're keen on getting your cat to gain weight then you may be at your wit's end and ready to try anything. It's always a good idea to visit a vet if you have real concern that your cat's weight is unhealthy, but here are some tips to help your cat gain weight in a controllable manner:
Choose High Protein Foods
Protein is the most important part of a cat's diet, while increasing the amount of food is a good idea you also need to ensure it's the right kind of food in the first place. Opting for one of the cat foods we've listed above as the best for weight gain will help.
Use Tasty Treats
Treats should make up a maximum of 15% of a cat's daily calorie intake. Since they're super rich and cat's will almost always prefer them over their regular cat food, you do need to take some caution with how much you dish out. There are plenty of treats your cat will go wild for available out there.
Make Sure They are Physically Active
This one isn't as obvious and actually seems like it would have the opposite effect. Regular exercise will keep cats happy, happy cats will eat. More importantly it will give them an appetite that a sedentary can't won't have. Make use of toys for cats, or even a length of rope usually is enough to do the trick.
Use Wet Food Too
Wet food is usually much lower in calorie content, but using it alongside a calorie dense dry food can help cats digest their food and keep them interested in meal-times. It's never a bad idea to have variation in a cat's diet and wet foods help you get that much needed moisture in.
Free Feed your Cat
Free feeding is not recommended in most cases since it leads to lazy feeding habits and eventually overweight cats. If your cat is underweight however, then it's perfectly acceptable to leave a meal out all day for them to pick at.
Rule Out Medical Problems
It's really, really important to get professional advice from a vet if you even have the slightest concern that a medical problem may be causing your cat to be underweight.
[related-posts ids="82,107″]
If your cat has suddenly lost weight, or if their eating pattern has drastically changed then you should get them checked up. Even something like a trouble urinating can cause a cat's appetite to plummet, leaving you confused and in the dark about why they're refusing to eat.
There are many factors that can effect their appetite, but having peace of mind that they don't have kidney disease or liver problems is the first thing you should aim for.
It may even be parasites or worms causing them to lose weight, something that can be remedied fairly easily.
What to Look for in a Good Weight Gain Cat Food
It can be tricky to know what cats need in their diets, but a little reading here and around the web should tell you that it's primarily protein and fat content you should be concerned about.
Aim for foods that have in excess of 30% of protein, the higher the protein percentage the better. Foods with fat levels between 15% and 25% are a great option if you need your cat to gain weight naturally.
Kitten food is especially useful here since it contains both of those macronutrients in plentiful amounts. Kittens require the extra nutrients to grow rapidly, and it can have the same effect on adult cats too. You also don't have to worry about stomach upsets or vomiting, since they're usually very gentle on the digestive system of adult cats.
Did you find this article helpful?