For cats that suffer with urinary problems, a cat food for urinary tract health can promote a fast recovery and relieve discomfort all while preventing the recurrence of crystal formation in the urinary tract.
They're a mainstay of treatment for feline urinary tract problems, so finding the right food for you and your cat is essential. There are several options, all of which have a slightly different approach to helping with the problem, and not all will be effective for all cats – so don't forget to check with your vet if there's a specific one you need.
There are plenty of foods out there that contain the necessary ingredients to restore a balance to the pH levels in your cat's urine and set them on a healthier path. Of all the options we found Purina Pro Plan Adult to be the best cat food for urinary health due it's moisture content and natural ingredients.
We recommend..
3 items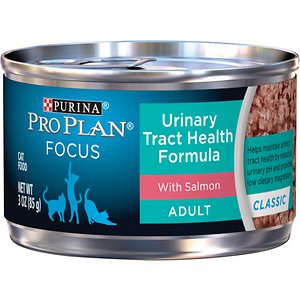 Best Value For Money
Purina Pro Plan Focus Adult Urinary Tract Health
Check Current Price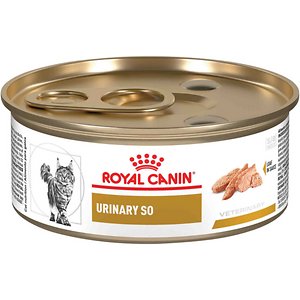 Very Effective Formula
Royal Canin Veterinary Diet Urinary SO Canned Cat Food
Check Current Price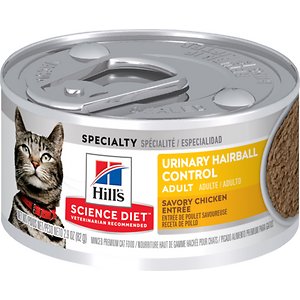 Has Great Reviews
Hill's Science Diet Urinary Hairball Control
Check Current Price
While it's fairly obvious that wet food is going to contain more moisture to flush through the urinary tract, we realize that wet or canned food simply isn't an option for some cat owners. Because of this, we've included both the wet and dry versions of each food where possible and kept an even mix of the two food types.
The Best Cat Foods For Urinary Health
Because each cat food tackles urinary disorders in different ways, and has different nutritional values, we're going to take a closer look at each and explain why they've earned a place on our list.
With cat foods aimed at curing specific ailments, you can expect to pay a slightly higher price than a regular cat food. Premium cat foods should always provide a nutritionally complete meal for cats, but these foods go a step above and target the issue at hand.
With this in mind, here's our list of the top cat foods for urinary health, with effectiveness and value for money in mind.
1. Purina Pro Plan Focus Adult Urinary Tract Health
Our first and favorite pick of the bunch is this Urinary Tract Health Formula cat food from Purina.
Purina being a household name speaks volumes about the quality of their cat foods. Well respected and loved by cats around the world, you can be sure your cat won't turn their nose up at this. And the Pro Plan range is their best-quality diet, it's recommended by vets and compliant with the World Small Animal Veterinary Association nutrition guidelines.
For a wet cat food that's targeted specifically at a common health problem, it's very reasonably priced.
With the Purina Pro Plan FOCUS range, you can be sure you're feeding them a cat food designed to help relieve the symptoms and prevent the causes of urinary tract infections every single day without breaking the bank.
It comes in a range of delicious flavors, each with the same urinary health benefits. You don't have to worry about your cat not liking the taste.
Their feeding guidelines suggest 1.1 oz per pound of body weight daily. You should divide this into two or more meals as you see fit, and don't feed it to pregnant cats or kittens.
We've rated it so highly because it's the perfect blend of value and efficacy and we've never known a cat to dislike a Purina wet cat food.
Check out the thousands of others who rate this highly using the button above.
2. Royal Canin Veterinary Diet Urinary SO Canned Cat Food
Royal Canin are widely regarded as the industry leaders in pet health and nutrition, so it should come as no surprise that this is a very effective cat food for urinary health.
We'll tell you up front though that it's also likely to be the most expensive. You can shop around and get good deals, though, so it's worth including – especially given how effective it is!
You might even want to try a combination of this food and the Purina FOCUS food to keep things a little more fresh for your cat, and a little more affordable for you. You'll need to check with your vet that both are suitable for your cat's specific condition, though.
The compounds are designed specifically to balance your cat's urine pH levels to between 6.0 and 6.3, values that are well within the healthy range for felines. It also utilizes boosted omega-3 fatty acids to prevent inflammation throughout your cat's digestive system.
3. Hill's Science Diet Adult Urinary Hairball Canned Cat Food
Hill's Science Diet Urinary & Hairball Control falls just in between our other two wet cat food picks on price and nutritional value.
It ranks as one of the most affordable foods for promoting a healthy urinary tract and has the added bonus of reducing furballs by incorporating a natural fiber blend.
As with the other urinary health cat foods we've picked out for you, it contains the optimal level of magnesium to help restore a balance to the pH levels of your cats' urine.
Hill's science are well known for manufacturing some of the best healthy cat food that combats a range of different common illnesses in cats. Much like the Purina formulas, each of their veterinarian developed cat foods are nutritionally complete, so can be used daily for each meal.
Hill's 100% satisfaction guarantee will have you covered even if your cat doesn't like it. Money back guarantees are a great sign that manufacturers have confidence in their product, and this makes it a great option for fussy felines.
As with most diet changes, Hill's suggest that you gradually introduce your cat to this food. You can transition by feeding an ever increasing amount of the new food and decreasing amounts of their old food over a 7 day period. This should be plenty of time to avoid any disturbances in their appetite or gut.
4. Royal Canin Veterinary Diet Urinary SO Dry Food
This brings us on to the dry cat foods, and there's no better place to start than with the Royal Canin dry equivalent of the wet food we've just looked at.
Though using a dry food to combat urinary health issues means you'll have to ensure your cat also drinks plenty of water, there are some upsides.
One of the biggest upsides to buying any dry food is that you get a lot more for your money. This is especially true when the food addresses health concerns. You can also leave the food out without spoiling, or make use of a cat feeder to schedule meals for you.
You get the same nutritional value as you would with the wet food, but with significantly less moisture and usually a few more calories in the same volume.
Providing you keep your cat hydrated, then this is the best dry food available for cats suffering with urinary tract problems. Since you get a bit more for your money here than with the wet foods, we think it's a better all round option than the other two brands.
5. Hill's Science Diet Adult Urinary Hairball Control Dry Food
Again, with this dry variation of the Hill's Science Diet Urinary & Hairball cat food, you get much of the same benefits as with the Royal Canin.
You get more for your money, a longer lasting product, and the same nutritional value. It's down to you to ensure your cat has a constant supply of fresh water and that they're drinking it, something which some owners find hard to accomplish.
With Hill's dry cat food, you get a considerable amount more for your money than you do with the Royal Canin, but the reasons are much the same as they are for the wet foods reviewed above.
You still get the same increase in fiber content that the wet food offers, and an optimal level of magnesium to help correct any imbalance in your cats' urine pH levels.
As with all Hill's products, there are no artificial colors or preservatives, just healthy natural ingredients with added vitamins, minerals and amino acids (taurine).
It's one of the best dry cat foods out there, and the added benefits of dissolving urinary crystals and hairball reduction make it a food worth trying for any loving owner.
6. Purina ONE Urinary Tract Health Adult Formula Dry Food
So the Purina FOCUS food we chose as the best also has a dry variant, and it's a wonderful all rounder.
You lose some of the incredible value for money you get with the wet food, because the competing dry foods are good value themselves. However, you don't lose any of the nutritional value that made us favor it.
The easily digestible formula contains healthy omega-6 fatty acids that not only work to boost your cats digestive system, but also improve coat and skin health.
Of all the dry foods on this list, this comes in the most convenient quantities; 3.5 lb, 7 lb 16 lb and 22lb bags are all available for purchase.
It also has a respectable 31% minimum crude protein content, which is up there with some of the best dry cat foods around. This means it's a little heavy on the calories though. At a meaty 452 kcal/cup, you should take extra care to portion this food appropriately.
Check out more consumer opinions and the current price using the button above.
How to spot if your cat has a Urinary Tract Infection
It's an unfortunate fact that cats are susceptible to urinary tract disorders often brought on or exaggerated by a poor diet. Specifically, feline lower urinary tract disease (FLUTD) is one of the most common cat diseases which can cause severe discomfort while urinating.
As with all medical concerns, it's absolutely vital that you seek the advice of a registered veterinarian before trying to solve the problem yourself. They'll be able to recommend certain foods, and in some cases even prescribe medicines to relieve symptoms.
Inflammation in the bladder is a common symptom of a disorder in feline urine tracts. If your cat is suffering from inflammation, you should be able to notice exaggerated straining while attempting to urinate.
Frequently attempting to urinate is another clear sign that something is wrong. If you've ever experienced a bladder infection yourself, you'll be all too familiar with the burning sensation that feels like you're about to pee any second.
Bloody urine is also a sure sign that it's time to get your beloved kitty checked up at the vet (in case that wasn't already obvious!). This is much less easy to spot if your cat urinates outside, but if you have doubts enough to be checking in the first place you should still be checking up with a professional veterinarian.
Cats that do their business in litter boxes are known to raise the alarm that they're experiencing discomfort by urinating outside of the box. If your cat usually has no trouble using their litter box but suddenly has started protesting to it, then you should take action.
Can Dry Foods Promote Urinary Health?
Well, yes and no. Dry foods can't provide everything that's needed, at least not on their own. There are without a doubt certain premium dry cat foods that specialize in providing the nutrients and minerals that are commonly used to combat infections and diseases, but by nature they lack a crucial ingredient. Moisture.
Moisture is incredibly important in promoting good urinary tract health in felines. For this reason, you can't promote it using just dry cat food, you need make sure they are also consuming enough water.
If adequate water is provided and consumed, then there's no reason why a dry cat food designed for urinary health would be less effective than a wet food for urinary tract health.
Most owners have concerns that their cats don't consume enough water, and it's certainly true that cats don't have much of a natural drive to drink water. If you want to feed a dry food, you should consider making use of a small cheap fountain to entice cats into keeping themselves hydrated around the clock, and make sure there are water bowls in every room. You can also soak their biscuits in water to force them to take in more moisture, but many cats will get fussy about this and refuse the food.
How does Wet Cat Food help Urinary Tract Health?
By being naturally high in moisture content (clue's in the name!), wet cat food can help hydrate cats and return the pH balance of their urine to a healthy level.
Moisture is so incredibly important in a cat's diet, especially if they are experiencing discomfort due to inflammation, unnatural pH, and crystal formation.
Cats in the wild survive by eating only the prey they catch. They rarely need to drink. If you stop and consider than animal meat is made up of roughly 70% water, it's no surprise that wet cat food is a favorite for tackling UTIs in cats.
Through it's superior moisture content, wet cat food can help UTIs by flushing the system through, dissolving any crystals, returning the pH levels to their natural state and allowing urine to take control of any bacteria in the tract.
Although any premium wet cat food will provide adequate nutrition, choosing one that's best equipped to solve the other symptoms of urine disorders can help resolve things a little quicker and easy the discomfort your cat is experiencing.
So… wet or dry?
Well, that's up to you and your cat. If you can get your cat to drink, the dry food is fine long-term, especially as it's more affordable. But for difficult cases, or those that relapse, wet food might be more effective.
What makes a Cat Food good for Urinary Health?
Foods specially formulated to promote a healthy urinary tract in cats often includes a few vital minerals that control the pH levels in urine and prevent crystals from forming.
Berberis vulgars or the "common barberry" is a shrub that produces acidic berries. It's been proven to support healthy immune systems in both humans and felines and works to restore balance in the bladder and urinary tract.
Cantharis is a homeopathic solution that's obtained from beetles in Spain and France. There are reports that it's effects can provide relief for cats suffering with urinary crystals within an hour from consumption.
Staphysagris is another natural medicine for UTIs in felines and works to fight infections and soothe the urinary tract, relieving discomfort.
These ingredients can be present in either food or supplement form, so if your cat is notoriously fussy with cat food and refuses to eat any of the foods mentioned above then you may be able to purchase supplements that can achieve the same goal.
Did you find this article helpful?