The rapid growth that kittens experience means they require a diet that is high in protein and fat. Choosing the best kitten food early on will reduce the chances of an upset as they go through this rapid growth stage. It isn't easy though; there's so much choice.
In a hurry? No worries, we get it. Here are three of our favorite kitten foods that are absolutely perfect for raising kittens to be strong and healthy from day one.
We recommend..
3 items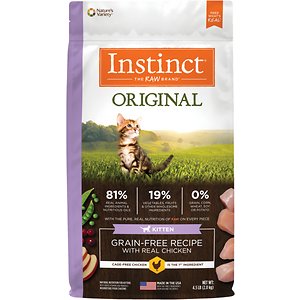 Best Dry Kitten Food
Instinct by Nature's Variety Original Kitten Dry Cat Food
Check Current Price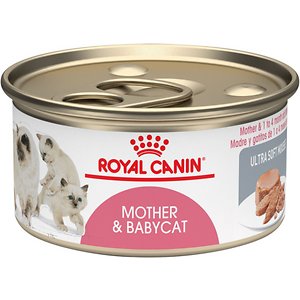 Best First Stage Food
Royal Canin Mother & Babycat Canned Food
Check Current Price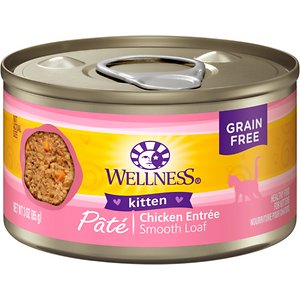 Best Value Wet Kitten Food
Wellness Complete Health Kitten Canned Cat Food
Check Current Price
We've reviewed a tonne of different kitten foods to bring you the best of the best. We've broken this article up into reviews and guides for both wet and dry kitten food. Throughout this article, we might refer to wet food as canned kitten food; these terms are completely interchangeable in this context.
Jump to (Dry):
Jump to (Wet/Canned):
Both wet and dry kitten foods are capable of providing all the nutrition a kitten needs to grow, but those who choose primarily dry food options should be careful to keep an eye on their kitten's water consumption.
---
Dry Kitten Food
Dry kitten food is most commonly used alongside a wet food option since it's perfect for free-feeding. Free-feeding, or ad libitum feeding, is the act of making dry food available for your kitten to snack on throughout the day as opposed to strict meal-times. Kibble based kitten foods are ideal for free-feeding because they take ages to spoil compared to wet foods.
Our selection of recommended dry kitten foods are perfectly balanced to provide a highly nutritious meal built on a strong foundation of protein and fat. Although carbohydrates aren't necessarily bad for kittens, they aren't a required ingredient in any cat's diet. Carbohydrates can provide energy, but are mostly required to bind kibble together.
Dry kitten foods differ significantly in caloric density, and this can only be accounted for by adjusting feeding portions. For the correct feeding portions, you should always check the packaging. The difference in caloric density can be down to numerous factors. It isn't fair to brandish a food as "full of filler" because it has a low caloric density, it may just have kibble that was formed under less pressure.
The Best Dry Foods For Kittens

To find the best dry kitten food for you, you'll be needing a bit more information than a rough overview.
Through a combination of personal experience, studying the market for consumer feedback, and online studies, we've put together this brilliant list of dry food for kittens. Below are the best dry kitten foods for providing a nutritionally complete meal to any young growing cat.
Nature's Variety Instinct Original
Protein: 42.5% (min) | Fat: 22.5% (min) | Fiber: 3.0% (max) | Moisture: 9.0% (max)
This brilliant kitten food formula is clearly tailor-made for the needs of a growing kitten. It contains plenty of good protein from animal-sources to make sure they have all the energy required to play and grow. We love the natural DHA they added to assist with brain and eye development.
The absence of grain in this food can only be a good thing for your kitten. As well as ruling out any risk of grain allergy flare-up, it also indicates that ingredients such as animal protein have taken precedence over filler; this is something especially important to cats during this rapid development stage.
81% of what your kitten will be eating with this dry food is high-quality animal products and oils. The remaining 19% comes from fruits, vegetables, and other wholesome ingredients. We love that they use cage-free chickens as their number one ingredient. Decisions like these show that they care about the well-being of all animals, not just cats.
Kittens seem to love the taste of this product. On top of the chicken flavor, they will get to taste: turkey, salmon, lamb, carrots, apples, and cranberries. Nature's Variety prides itself on being very natural, and your kitten will appreciate the thought they put into their ingredients. They believe raw ingredients truly unlock your pet's potential. If your kitten is under 12 months old, this could well be the best dry kitten food for him or her. Nature's Variety Instinct Original Kitten food review.
BLUE Wilderness High Protein
BLUE Wilderness has an excellent reputation for producing high-quality pet foods, and this kitten dry food is no exception. There is absolutely nothing artificial in this kibble. What you will find instead is de-boned chicken and sweet potatoes. The real chicken provides protein, and sweet potatoes serve as a source of complex carbohydrates. Though carbohydrates aren't essential in your cat's diet, they are required to help create kibble and are a source of energy.
You'll find taurine on the ingredients list too, an essential amino acid that is critical for heart and eye development. We love the patented LifeSource bits that BLUE includes in all of its dry foods. They are dark kibble bits that are cold-formed and enriched with antioxidants, vitamins, and minerals. All of that adds up to a happy, healthy kitten!
Things you will not find in this kitten dry food include poultry by-product meals, wheat, soy, or corn. With a chicken flavor that seems to be extremely popular with kittens, this dry food will make sure they get all the nutrients they need.
IAMS Proactive Health Kitten
This budget-friendly dry kitten food has a lot to love. Designed with kitten development in mind, this formula is protein-rich and is packed with Omega-3 and DHA to help your kitten's brain development.
The first ingredient in this product is chicken, and there are no added fillers at all. That yummy chicken that creates the taste your kitten loves is also helping them build strong muscles. The inclusion of Vitamin E is wonderful for boosting your kitten's immune system. It's also full of the essential amino acids all meat-eating animals need.
IAMS is a well-respected cat food manufacturer that has been around for a long time. They have spent years researching foods that are great for your pet without breaking the bank. They are so confident that your kitten will thrive on this excellent formula that they offer a 100% money-back guarantee. The quality control checks they use far exceed the standards of both the FDA and the USDA. If you're on a budget, this is a fantastic dry kitten food to try.
Hill's Science Diet Dry Kitten
Hill's Science Diet is the number one brand recommended by veterinarians; with Hill's, your kitten is in safe hands. Their cat food formulas are developed by a team of vets, food scientists, and Ph.D. level nutritionists.
There is natural DHA in this food, which is vital for both brain and eye development. The antioxidants and vitamins are clinically proven to promote a healthy immune system. During the first year of life, kittens are extra vulnerable, so any added protection is excellent.
The high-quality animal protein in this food is easy for your kitten to digest and put to use. You will also find plenty of vitamins, minerals, and amino acids packed into this food. What you will not find is any artificial flavors, preservatives, or coloring. The great taste of the food comes straight from the chicken. Vitamins C & E help your kitten's immune system as well as act as a natural preservative.
Due to the high level of nutrition in this food, it's also suitable for pregnant and nursing cats. If this food will work with your budget, it is worth serious consideration. In our opinion, it's one of the best foods for kittens on the market.
Feeding Guide For Dry Kitten Food

For most cat owners, dry food makes up at least a part of their pet's diet. With your kitten, it is especially important to feed a high-quality food that promotes healthy growth. Dry food has specific characteristics that make some choices better than others.
Kibble Texture
One advantage of your kitten eating dry food is that a crunchy kibble can help them reduce tartar. Though this has been heavily debated, there are proven effective dry foods designed to do this.
Calorie Count/Density
Kittens are far more energetic than older cats. Due to this, having a high-calorie food to give them the fuel they need is super important. Many owners opt to free-feed dry food, and that is generally advisable with kittens. As they reach maturity, free-feeding should stop to avoid issues with overfeeding.
Ingredients & Nutrients
Always check the ingredient list before buying your kitten any food. Some ingredients are crucial for their growth. Taurine, in particular, has shown to be essential to healthy eye and brain development. Vitamins C and E are also critical to maintaining a healthy immune system as well as aid in their mental development.
As with any cat food, kitten dry food should be free of any artificial coloring, flavoring, or preservatives. Consider buying smaller bags of food that use natural preservatives to make sure it is enjoyable for your kitten down to the last piece of kibble.
Make sure your kitten's dry food uses real meat as its number one ingredient. Real meat proteins contain everything cats need to develop while plant-based proteins do not. Cats do not need grain, and a grain-free formula can beneficial for young kittens, though be aware that grains are often replaced with non-grain carbohydrates such as sweet potato in order to form kibble.
Taste
Some kittens are more reluctant to eat dry food than wet. Finding a dry food with an excellent taste can make sure that their dry food bowl doesn't get ignored all day. Again, try to avoid food that relies on artificial flavoring to make it taste appealing. Kittens are natural carnivores, so foods with real meat as their #1 ingredient are more likely to appeal to their taste buds.
Price
Although even the best dry cat food is generally cheaper than wet cat food, there is still a wide range of prices. Sometimes, to get the best brand, you have to spend quite a bit. Some foods offer a great blend of nutrients at a better price. Your budget will play a significant role in determining your kitten's dry food. If nothing else, be sure you are buying a formula designed for kittens or all-stages and not adult cats.
In Summary
Dry food can be one of the building blocks for your kitten's body. Choosing a high-quality cat food can make sure your kitten is healthy now and for years to come. Finding a balance of good ingredients, texture, calories, taste, and price can be difficult, but it is definitely worth it! Our recommendations will put you on the right track.
---
Wet & Canned Kitten Food

Wet kitten food (or canned kitten food) is a popular choice. For most owners, a combination of both dry and canned foods is the ideal outcome. It's often advisable to lead with wet foods as the primary meal and leave kibble around 24/7 to be sure the kitten can eat whenever it feels a little hungry.
Wet food typically works out to be slightly more expensive per meal than dry foods, so a balance of both can work best for your cat and your wallet. Don't be alarmed that the values listed for calories, protein, and fat are significantly lower than those found in dry foods. The reason behind this is that these foods are made up of far more moisture. To compare nutrient analysis, you'll need to convert both values to their dry-matter equivalents.
Feeding a cat two cans of the best wet cat food could be the nutritional equivalent of half a cup of dry food; portioning is everything.
The Best Wet Foods For Kittens

Canned kitten foods typically come in forms that are palatable for them regardless of their dental maturity. Soft pate based foods are excellent for very young kittens who would struggle with kibble. A loaf food is slightly thicker than a pate texture but is still perfect for kittens.
Regardless of the texture, each of the foods recommended here provides a nutritionally complete meal that will also go a long way to catering for your kitten's hydration requirements. Below are the best wet and canned kitten foods that are easily palatable and provide all the nutrients and hydration required.
Royal Canin Nutrition Babycat
Protein: 9.0% (min) | Fat: 4.0% (min) | Fiber: 1.9% (max) | Moisture: 81.0% (max)
This wonderfully balanced food is perfect for helping very young kittens transition from their mother's milk to solid foods. It's considered a "first-stage" food and is best suited for kittens under 4 months old. The consistency is a soft mousse that helps kittens bridge the gap between milk and solid foods.
Very young kittens need all of the immune system support they can get. This food is especially great because it has an antioxidant complex that is specifically for the very young kitten.
As with all Royal Canin cat foods, we love the macronutrient profile, and so will your kitten. It has the perfect balance of proteins, carbohydrates, and fats, designed to be as close as possible to the balance that cats naturally crave.
Kittens love the flavor of this food, and the texture makes it even more appealing. It uses real chicken and chicken liver to give it great flavor. Royal Canin foods are typically a little more expensive, but as always, their specialist formulas that helps cat thrive makes it worth the investment. Royal Canin Mother & Babycat kitten food review.
Wellness Chicken Pate Kitten
Protein: 11.0% (min) | Fat: 7.0% (min) | Fiber: 1.0% (max) | Moisture: 78.0% (max)
Wellness's chicken pate is one of the highest rated kitten foods around. The pleasing pate is easy for kittens to eat and comes in a very tasty chicken flavor. There are plenty of proteins in this wet food to help your kitten grow big and strong. Taurine is included, which is a key ingredient that's essential for heart and eye development.
Wellness pride themselves on producing very natural cat foods, and you'll be please to hear that this formula contains nothing artificial. There are high levels of protein and fat to make sure your kitten develops healthy muscles, organs, and bones. Your kitten is sure to have plenty of energy for all the playing and discovering that is so precious during the early months.
Wellness brand cat (and kitten) wet foods are designed to promote 5 signs of wellness. Those 5 signs are energy, immunity, skin and coat, teeth and gums, and digestive health. We recommend this brilliant kitten food to owners who prefer to stick to as natural a formula as possible. Wellness Complete Health kitten food review.
Royal Canin Nutrition Kitten
For specialist cat food nutrition, no one beats Royal Canin. Their formulas command a premium price tag, but they're easily the front-runners in feline nutrition. This kitten formula featuresd thin slices in in gravy, which still makes it easy to eat but offers an option other than pate for your kitten.
This food has all the same hallmarks and benefits as other Royal Canin cat foods. It's perfectly balanced, with the ideal amount of protein, fat, and carbohydrates to provide your growing kitten with plenty of energy. There is also the antioxidant complex for a healthy immune system that Royal Canin has perfected.
The macronutrient profile of this food is very appealing to kittens; the perfect balance of calories that they will instinctively crave. This formula is an excellent wet cat food food to transition to after the Mother & Babycat formula from Royal Canin.
Chicken, chicken liver, and pork are the first three ingredients in this food. This premium kitten food is more expensive than many others on our list, but it is worth it. We'd recommend pairing it with a cheaper dry kitten food if you can to help with economy.
Nature's Variety Instinct Original Canned
This premium kitten food features lots of high-quality protein to get your kitten off to a great start in life. There's a mix of chicken, salmon, liver, and beef that exposes your little kitty to a variety of proteins early on. This great variety of ingredient can help reduce the chance of food sensitivities in the future.
Strangely, one of the things we love about this product is the things that aren't included. You'll find no grain, potato, soy, wheat, corn, artificial colors, or preservatives. All that leaves is highly natural ingredients that your kitten will love. The pate texture is very popular for kittens because it is easy to chew for their small mouths.
With plenty of natural DHA, this wet kitten food is great for eye and brain development. Salmon, one of the top ingredients, is a great source of both the DHA and protein. You'll also find plenty of vitamins present, along with fruits and vegetables such as pumpkin, blueberries, cranberries, tomatoes, cabbage, kale, parsley, and artichokes.
Priding themselves on producing excellent raw food, the Nature's Variety brand has endeared itself to cat owners worldwide. We're not surprised.
Feeding Guide For Wet & Canned Kitten Food

Wet kitten food (canned food), typically contains 75-85% moisture. There are several different textures available with wet food, so finding the one that your kitten will love can take some guess work. Here are a few things to keep in mind when buying canned food for your kitten.
Moisture Content
Most veterinarians will recommend your cat or kitten get at least some wet food a day because of the extra water it provides. On the other hand, too much moisture in a can of cat food means not enough of the other nutrients they need.
Often, you will find close to 80% moisture in a 3 oz can of kitten food. That means up to 2.4 of the ounces are moisture, leaving only 0.6 ounces to provide the protein and fat that your growing kitten will need.
Because of the high calorie demands of growing kittens, you'll often see manufacturers recommend several cans a day. If you are also feeding dry food alongside, the recommended amounts drop to roughly two cans daily. Those feeding dry food alone should invest in a cat water fountain to help make up the difference in hydration levels.
Food Texture
As with adult cat food, kitten food comes in a few texture types. Most commonly you will find pate. Pate is a favorite because it is easy for kittens to lap up. Very young kittens will have very small mouths and teeth. That is why dry food and wet food with any chunks are often not good options.
As your kitten gets a bit bigger, you can add more variety to the texture of their wet food. You can find cubed, flaked, and shredded textures, that may help your kitten practice chewing. Some cats just simply hate pate food, even from an early age.
Taste
For whatever reason, manufacturers seem to be convinced that kittens love the taste of chicken. Many foods will combine several proteins, such as pork, lamb, and fish, to get your kitten's stomach used to them. You will definitely want to avoid foods with artificial flavoring.
A lot of companies add quite a bit of salt to add flavor. While adult cats can usually handle that, kittens may struggle with it. Unfortunately, a lot of the time the better tasting foods are the less healthy ones, just like with human food!
Price
TThe best canned kitten food is going to be quite expensive. This added price is one of the biggest reasons people stick to dry foods. Wet food is definitely worth incorporating into your kitten's diet, however. A more expensive kitten food will have better quality protein sources (that they need) and fewer carbohydrates (which should be limited).
Remember, you do not have to exclusively feed wet food. If you feed two cans a day in addition to dry food, a case of 24 cans will last you almost two weeks.
Conclusion
Wet kitten food is an important part of your pet's diet. It can help keep them hydrated while providing high-quality protein. Although the price of some foods can make you hesitate, just think of it as an investment in your kitten's long-term well-being.
---
Choosing The Right Kitten Food

While your kitten is growing, the balance of their diet will be crucial to their development. There are several nutrients that your kitten will need to be getting from his or her food. As a loving and responsible pet owner, it is up to you to find the best options. This guide is designed to help you choose the best kitten foods on the market, as well as offer tips on feeding.
Kitten Food vs. Cat Food
Kittens have unique dietary needs that are kept in mind when companies develop their kitten food formulas. They need more of the key nutrients than fully grown cats. For example, they need almost twice as much Vitamin A in their diet as adult cats. They will also need more protein and the amino acids Lysine and Tryptophan.
There are some foods designed for "all-stages" of life, but kitten foods are more likely to provide your feline friend with the proper things to make sure they grow up healthy and happy.
AAFCO
The Association of American Feed Control Officials has the most respected rating system for pet food. They have a separate category for "growth and reproduction." Before choosing either wet or dry kitten food, you can go to the AAFCO website and see what their nutrient profiles and feeding trials have to say about it.
High-Quality Ingredients
While you will want to serve your pet high-quality food throughout their life, it is especially important during their first year. There needs to be a lot of high-quality protein that comes from meat, not from plant based sources. They also need fats for energy.
Be sure that your kitten's food provides amino acids including taurine. Vitamins A, C, and E are also important for their diet. DHA is important for your kitten's brain development.
Wet vs. Dry vs. Both

In the beginning, it may only be possible to feed your kitten wet food. Their "baby teeth" are quite small and struggle with chewing dry foods. Adult teeth will make an appearance around the 3 to 4-month mark. By 7 months, most kittens will have all of their adult teeth and will be ready to try other foods.
It's a great idea to have your kitten experiment with different types and textures of food while they are still young. Otherwise, you may end up with a picky eater on your hands.
Feeding nothing but dry food can have negative consequences on your kitten's health. Without wet food in their diet, cats are more likely to develop kidney and urinary tract health issues. Also, if your kitten becomes accustomed to eating nothing but dry food now, you may struggle to keep their weight under control later in life.
That is because dry foods typically contain fattening carbohydrates that are required to form the kibble. You will even find many veterinarians recommend feeding no dry food at all. Canned food is great because of the high moisture content. It often has more protein by weight and is usually less processed. However, providing enough wet food for all of your kitten's needs on a daily basis can get quite expensive.
Many people find that feeding both wet and dry kitten food works well for them and their kitten, as long as they have their adult teeth.
How To Tell If You Have The Right Food
No matter how much research you do into the quality of a kitten food, you won't know if it's a winner until you put it infront of your kitten. There are a few things worth keeping an eye on that will help determine if your kitten is thriving on their food:
How does your kitten behave? Does he or she seem healthy and alert? Playful? Active? These are all indications that your kitten is getting the right nutrients.
How is your kitten looking? Do you see bright eyes? A clean and glossy coat? Has your kitten been gaining weight steadily? Does he or she seem healthy overall?
If the answer to all of those questions was yes, your kitten food is probably doing its job. On the other hand, if you said no to even one of those questions, it may be time to shop around for a new food. Your kitten's veterinarian is an invaluable resource for choosing the best food.
Feeding Guidelines

Kittens need a lot of food to give them the energy to play and grow. They cannot eat very much in one sitting, so they will need to eat several small meals a day. If you can't be around to provide this then consider making use of an automatic cat feeder. These work by timing meals to preset portions, perfect for when you're out of the house between meal times.
Free-feeding can lead to obesity with most pets, but while your cat is young it is considered perfectly acceptable. Free feeding, or ad libitum feeding, only works with dry food, of course, because wet food will spoil if left out too long. Leaving out dry food can make sure your kitten can stop for a snack whenever they need the boost. Once they get older, you may want to start feeding dry food on a schedule to reduce the risk of weight issues.
If you are only using wet food, you will need to feed your kitten four times a day. If you are leaving dry food out for them to snack on, you can cut that down to two or three. Getting enough calories is essential for your kitten's development.
Be sure to always provide plenty of fresh water as well. Your kitten's kidneys, as well as the rest of their bodies, need to stay well-hydrated.
Our Final Conclusion
Your kitten is likely providing you with great joy and companionship. It is up to you to keep them happy and healthy while they are busy growing. Feeding several meals of high-protein food and the right vitamins and minerals is one of the best things you can do for them.
After the first year of life, it will be time to start researching the best adult food for your kitten. In the meantime, use this guide to choose the best wet and dry foods for your kitten!
Did you find this article helpful?