Purina's Indoor Cat Chow Naturals is a perfectly balanced food that's ideal for indoor cats. The real meat formula is geared at maintaining a healthy weight and tackling common complaints like hairballs and poor digestion.
The relatively high fiber content (5.4%) makes it fantastic at keeping the digestion of indoor cats flowing healthily [emoji s="smile-cat"].
As always with dry cat foods you'll want to make sure your cat gets plenty of water throughout the day, but the 12% moisture content of this indoor cat food isn't half bad.
Why It's Great For Indoor Cats
This formula only contains around 358kcal/cup, which is impressively low [emoji s="smile"]. The low caloric density will leave your cat feeling fuller even though they've consumed less calories.
Compare the calorie content to Blue Buffalo's High Protein Food (415kcals/cup) and it's clear to see that it's perfect for cats with a slightly less active lifestyle.
A lower calorie count indoor cat food is often a great option to feed older cats, as their digestion and activity levels tend to slow down with age.
The fat content of 9.0% is also worth noting, which is more in line with the average 10% that would make up a wild cat's diet [emoji s="plus1″].
We love this food and think it's perfect for indoor cats who typically burn less calories than cats that adventure outdoors.
 Feeding Information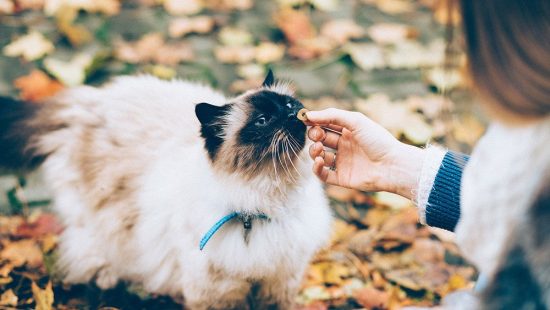 Purina recommend that you feed a 5-9lbs cat around 1/2 to 3/4 of a cup daily, and a 10-14lbs cat 3/4 to 11/4 cups.
These are guidelines and the actual amount depends entirely on your cat's current weight and condition. Consult your veterinarian if you need advice of feeding portions.
Remember to transition onto new foods gradually by mixing the old food in with the new over the course of a week or so for the best results.
Nutritional Content
| Nutrient | Min Content |
| --- | --- |
| Crude Protein | 38.0% |
| Crude Fat | 9.0% |
| Crude Fiber | 5.4% |
| Moisture | 12.0% |
| Linoleic Acid | 1.25% |
| Taurine | 0.18% |
| Calcium | 1.10% |
| Selenium | 0.3 mg/kg |
Things To Watch Out For
There aren't many negatives about this food, but in the interest of completeness let's look at a few points that slightly less than ideal.
Contains grains which aren't a natural part of a cat's diet and therefore offer little in the way of nutrition by themselves. They're often used to help form the kibble.
Byproduct meats are typically cheaper to source but don't come with the same quality guarantee you get from raw meats.

They aren't bad by any means else Purina wouldn't use them, but they're slightly less than ideal

.
1% phosphorous content should be no concern to healthy cats, it's a healthy nutrient when it isn't fed in excess, but cat owners should be aware of this in case their cat suffers from hyperphosphatemia.